60 years on, students revisit St Mary's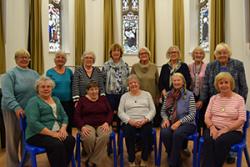 The friends gather for a group photo in Acapela: See end of article for names.
Thirteen former students visited the newly renovated St Mary's residential village recently. As well as a well-enjoyed trip down memory lane, they were delighted by the way the site had recently been developed by the University.
The friend group were all former students of St Mary's College a Teacher Training College which later became part of Bangor University.
The group meet annually, and this year, decided to visit Bangor to mark 60 years since they first stayed at St Mary's.
The group were welcomed on site by Ken Griffith, Head of Residence and Deirdre McIntyre Residential Life Manager, and had a brief introduction at Acapela, the former chapel, now used to host formal and informal events and film screening, before enjoying a brief tour of the site
Boy did they have some memories to share!
Arriving only 12 years after the end of the Second World War, the students had very different expectations from today's students, and lived by a whole different set of rules.
The ladies spoke of having a curfew of 10.30 each night- when the University' Hops' didn't get going until far later! They recalled having a special showing of Gone with the Wind on a Wednesday afternoon at the local cinema as, being an epic film, the running time had exceeded the 10.30 curfew!
Week-ends included having hot cocoa and an iced bun provided as a treat each Saturday evening at 9, but having to enjoy or endure a compulsory singing session during their 'free' Saturday morning!
The 'girls' as they refer to each other, shared stories of minor rule infringement to meet boyfriends or to attend out of bounds dance-halls, for example at 'Jimmy's' Hops on Tuesdays & Thursday night, held in a wooden hut on Glanrafon Hill. Sixpence gained entry to the well-attended, but strictly out of bounds dance night!
As well as living by far stricter rules and regulations, the accommodation was more basic than today. The group recalled what were called the 'horse-boxes', one large room sub-divided by tall wooden partitions to create around eight smaller bed-rooms. Some students lived in 'digs' with local families, but still had to make it up the hill for breakfast at 8.00. On a Sunday, there were eggs for breakfast, but not to be enjoyed until the College Principal had taken Communion and said a Latin prayer before the meal. The highlight of the rest of Sunday would be a walk to the pier, as everything else was closed!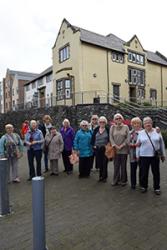 The group enjoy a guided tour around the newly re-designed site, which retains some familiar buildings and names.On visiting the new Barlows, Dilys Knott, (nee Jones) commented: "I have very happy memories, you can picture everything as it was and yet everything's changed, but it's been beautifully done."
Barbara Davies said: "I loved it every minute of it, We had lectures all day every day and on Saturday morning, I was so happy here- our backgrounds were strict, we were war babies really."
Anne Jones (Browning) said:
"We were leaving home for a semi-protected environment, but we thought we had such freedom- I remember buying trousers or 'trews', and being told I couldn't wear them out when I got home."
One of their midst, Denise Shorthall (Wilson) was three year older and arrived, having been working for five years and living on a salary and so could afford a few hobbies. She was a pioneering young female climber, and it was recalled that she arrived in Bangor on a scooter, carrying skis and with a climbing rope around her body!
Denise formed the first Climbing Club for women at St Mary's, joining with the University Climbing and Mountaineering Club.
Alice Williams (now Milner), another member of the Climbing Club (reunion arranger) explained that to go climbing necessitated catching the 8am bus to Bethesda and waking up the valley to the mountains and back on top of the days' climb, carrying far heavier equipment and ropes, before, if they were lucky, catching the bus back to Bangor!
Similarly to many of Bangor University's current students, Denise chose to study at Bangor because it also gave her access to the mountains and opportunities to follow the sports that she loved.
In the top image are:
back row lefr-right: Carol Pullen, (now Salmon) Nona Carter, (now Grimshaw) Chris Rees (now Worthington), Margaret Lupton, Anne Browning (Nee Jones), Larry Roberts ( now Shaw) Annis Williams (now Milner), Pat Harries.
Front row left-right: Dilys Knott (Jones) Winifred Thomas (Henderson, Pam Lewis (Roberts) Denise Shorthall (Wilson); Barbara Quornby (Davies).
Publication date: 19 October 2017