60th anniversary of the climbing of Everest – Bangor University's continued involvement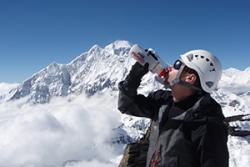 Being so close to Snowdonia, it is unsurprising that Bangor University is indistinguishably linked with climbing Mount Everest. Mallory and Irvine were regulars to Snowdonia's mountains before their unsuccessful attempt on Everest in 1924. The successful expedition that reached the summit on 29th May, 1953 also met regularly before their departure for Nepal, staying in the shadow of Snowdon itself.
It is often forgotten that the expedition's deputy leader and lead climber, Sir Charles Evans, came within 300 feet of being the first to climb Everest, three days before Hillary and Tenzing's successful ascent. Only a problem with an oxygen cylinder prevented Evans claiming the fame of being the first to stand on the summit. Evans later became the Principal of Bangor University, starting a long history of recruiting and appointing climbers as students and staff.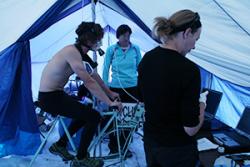 Dr Sam Oliver from the Extremes Research Group determining his oxygen delivery to the muscle during cycle excercise.One of the primary reasons the 1953 expedition was successful where previous attempts had failed was the appreciation of exercise physiology by the expedition scientist, Griff Pugh. Pugh, also from a Welsh family, realised that providing adequate oxygen, energy and fluid to climbers was essential for a successful ascent of Everest. After Everest, Pugh carried on his research on further high altitude expeditions, and also completed important work on cold and hypothermia. His work is continued today by members of the Extremes Research Group at The School of Sport, Health and Exercise Sciences.
The Extremes Research Group aims to improve health and performance of humans in extreme environments, such as Everest. The Group has environmental chambers that can simulate the conditions experienced on Everest, from the intense heat and humidity of the walk-in through the foothills, to the cold and thin air of the summit itself. Using their unique facilities, the group studies why people suffer from altitude, heat and cold illnesses that affect so many climbers on Everest.
Following in the footsteps of Evans and Pugh, the Extremes Research Group is also organising the research on a modern medical expedition to the Himalaya, departing in 2015. Having been to Everest once already, the team hope to climb another 8000m peak, Manaslu. Preparations and logistics are as complicated as on the early Everest expeditions, as the scientific equipment still requires carrying into a remote base camp by a large team of porters. The Extremes Research Group will facilitate a program of research that will not only study expert mountaineers, but also a group of less experienced but keen hill walkers as they trek into Manaslu base camp.
This challenging and exciting physiological research will continue to ensure Bangor University's involvement in human endeavours from the summit of Mount Everest to the extreme environments of the world. Dr Jamie Macdonald, member of the Extremes Research Group, said "The history of mountaineering and altitude physiology is rich with fascinating characters such as Pugh and Evans. Reading accounts of their lives inspired me to combine my hobby of mountaineering with my work as a sport scientist. I feel honoured to be able to continue their work and privileged to be involved in such an exciting research area."
Futher information can be found here:
School of Sport, Health and Exercise Sciences
Extremes Research Group - Bangor University
Bangor Students On Top of the World!
Bangor University's Medical Research Expedition to the Himalayas
Staff and students prepare to leave for medical research expedition to the Himalayas
Bangor's forgotten link to the conquest of Everest
Publication date: 28 May 2013