A Degree and an Award for Llio
Bangor University student will be celebrating this week by graduating with first class honours and also winning an award for her hard work.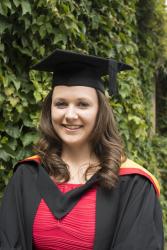 Llio Hughes
Llio Mai Hughes, 21, from Bryngwran, Anglesey is graduating this week with a BA Welsh with Creative Writing degree as well as receiving the Sir John Morris Jones award. The award was established over forty years ago and is awarded to the student/ students who received the best results in their finals.

Llio said: "Graduating with a first class degree is a privilege and it's nice to have such a good result after all the hard work. I've really enjoyed the last three years in Bangor and I'm looking forward to coming back in September to continue my studies.

"I went to Ysgol Uwchradd Bodedern where I began to think seriously about creative writing. I studied Welsh as an A level subject as well as Information Technology and Religious Studies. I won the Prose Medal in 2010 Anglesey Eisteddfod which gave me the confidence to choose to study Welsh with Creative Writing at the University.

"I chose to study at Bangor University because the course suited me perfectly and offered a lot of variety. I attended one of the open days and the lecturers were very friendly. I felt really comfortable and knew that Bangor University was the one for me!

"I was a member of UMCB and the Welsh Drama Association. The Welsh Students' Union hosted a number of events and created great opportunities to meet new friends and socialise, such as Aelwyd JMJ. My univeristy experience would not have been as good without UMCB. The Welsh Drama Society was re-established this year, and I have really enjoyed being part of the process. It has been interesting to research the history of the Society and the drama workshops were such fun. The Society was very popular in its day, and I hope it will thrive again.

Llio will return to University in September to study for an MA in Creative Writing, she then plans to go on to do a PGCE Secondary in order to be a Welsh teacher.
Publication date: 12 July 2013