A green revolution needn't be dull with sustainable sequins!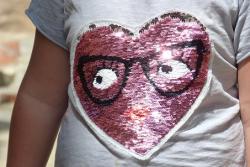 Sequins are still a strong element of children's 'fast fashion'.With sequins remaining 'on-trend' in the world of 'fast fashion', one small company is hoping to add a little light of brilliance and sustainability by developing a biodegradable sequin.
Fast fashion is often criticised for increasing the amount of material sent to landfill. The craze for sequins only serves to add a literal 'layer' of unrecyclable plastic into that mix.
One company is hoping to change all that however. Rachel Clowes established The Sustainable Sequin Company a year ago to provide the fashion industry with a sustainable sequin.
Rachel is currently using recycled plastic to provide off the shelf and custom-made sequins of various shapes and sizes. Rachel's recycled plastic sequins are the first step towards her goal of developing a compostable sequin, which when used on a biodegradable material, could see the whole garment degrading naturally once sent to landfill.
Rachel has turned to experts at Bangor University and has asked them to throw their considerable experience behind her challenge.
The University's BioComposites Centre has a track record of over 30 years of providing manufacturing and construction industries with alternative plant based materials or ingredients to replace non-renewable materials. They have already contributed know-how to the successful development of a range of products from compostable pizza bases, recyclable coffee cup lids and grass-based egg boxes to bio-based building materials and even car parts.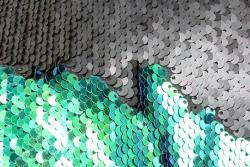 Sequins add texture and a touch of glamour!Graham Ormondroyd at the BioComposites Centre said:
"It's interesting to be resolving a fashion problem for a change, but actually, this is no different to other challenges we have resolved".
"What we're currently testing is whether the dyes and fillers that provide the colour and iridescence don't affect the degradation process at the end of use.
Rachel added:
"I'd be so excited to be able to provide the fashion industry with an alternative to single use plastic sequins. It would be fantastic if the whole industry took notice of what we have produced/ are developing and joined us in developing and using renewable sequins."
Unlike ordinary plastics which are derived from petroleum, the sequins will be made of naturally sourced renewable materials. they will have a lower impact on the planet, being made from readily available' renewable plant materials which can decompose at the end of their useful life.
The BioComposites Centre are experts in developing bio-based plastics for a range of uses and technical specifications. They uses the latest technologies to help industrial companies produce goods which provide alternatives to non-renewable plastics.
Publication date: 10 September 2019