A groundbreaking way to exercise your Welsh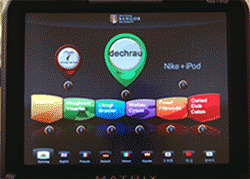 New options for using Welsh while exercising are to become available following a collaboration between Bangor University and a leading fitness equipment manufacturer. A high specification exercise bike that features a Welsh language interface will be showcased on the University's stand at the Urdd National Eisteddfod in Pembrokeshire next week.
This innovative departure for the Welsh language is the result of collaboration between multinational company Johnson Health Tech and the Cymraeg Clir Unit at Canolfan Bedwyr, Bangor University.
Johnson Health Tech first approached Canolfan Bedwyr for assistance on the project on the basis of the centre's experience in developing Welsh language solutions for companies such as Microsoft and Sharp. Based in Taiwan, Johnson are one of the industry's fastest growing fitness equipment manufacturers and a company prides itself on its multilingual approach. The addition of Welsh to its consoles takes the number of supported languages to 15.
Jon Johnston, Managing Director of Johnson Health Tech said "We are all extremely proud to have had the opportunity to partner with Bangor University to produce a fitness product which hopefully has some wider social and cultural significance. At Matrix we are conscious of our social responsibilities, and we believe this product feature will not only benefit the intended communities, but also play a small part in raising awareness of the importance of preserving the Welsh language''.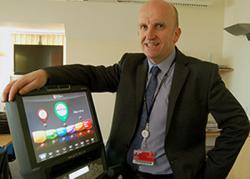 Mindful of the need for the Welsh language to gain a stronger foothold in the areas of sport and leisure, Dr Llion Jones, Director of Canolfan Bedwyr, was particularly keen for the centre to be involved in the project. He said: "Language planning experts all agree that the use of minority languages in the leisure domain is crucial to their vitality. The goal of seeing Welsh language fitness equipment being used in gyms and leisure centres throughout Wales, and indeed worldwide, was a clear motivating factor for our involvement."
The translation work was undertaken by Canolfan Bedwyr's Cymraeg Clir (Plain Welsh) Unit, whose mission is to encourage public bodies in Wales to adopt a clear and natural style of Welsh that is easy to understand. Eleri Jones, principal editor of the Cymraeg Clir Unit, said: "Our constant aim when creating the Welsh version of the software for the Johnson fitness console was to avoid translating the instructions and descriptions rigidly and inflexibly. We wanted to produce a Welsh version that was clear and easy to understand so that Welsh-speakers and learners of all ages and ability would opt for the Welsh interface when exercising."
Both partners are keen to establish a long term relationship and are already planning the Welsh language implementation for the next generation of fitness equipment currently under development.
Publication date: 23 May 2013