A History Festival comes to town
British-Nigerian historian, David Olusoga will be discussing Slavery, Empire and Historical Amnesia.
Leading historians David Starkey, Lucy Worsley, David Olusoga and Trevor Fishlock seen regularly on our TV screens will be joining experts from Bangor University and across the UK to participate in the first History Festival being held in Bangor on 25th & 26th October 2019.
Bangor, with its historic Cathedral and surrounding landscape of industry, castles and country houses is an apt setting for this History Festival, which is designed as a community event, with exhibitions as well as book signing and sales opportunities.
Through stories of individuals, events and corporations the programme, it is hoped, will reveal the inter-connectivity of the four nations of the United Kingdom. Prof David Olusoga OBE, a BAFTA winning broadcaster, author and film-maker will start the Festival at 10am on Friday 25th with a talk entitled Slavery, Empire and Historical Amnesia. Local historian, Dr Marian Gwyn, will follow with: "Wales and Slavery - Re-knowing and Re-telling".
The slate from the quarries of Gwynedd 'Roofed the World' as the slogan says, and in the process transformed the landscape, the way of life of many and made fortunes for a few. Experts involved in promoting the bid for UNESCO World Heritage status for this landscape will also tell us about the other global spin-offs that accrued from this industry. Not least, the very enjoyable heritage railways of today.
The Festival has narratives of Kings, Queens and soldiers; rebels, reformers and invaders. They have all left their mark on the national and international stage. John Keay from Argyll will describe how Everest, the highest mountain in the world, came to be named after a Welshman from Crickhowell. The Social Reformer, Robert Owen, of Newtown, who took his Utopian message to Scotland, the USA & Ireland, and founded the Co-operative movement is the subject of the talk by Prof Chris Williams from Cork.
Yet another heart-warming story will be told by Trevor Fishlock about the philanthropy and courage of the shy and wealthy Davies sisters of Llandinam, who gifted a wonderful collection of paintings to the people of Wales.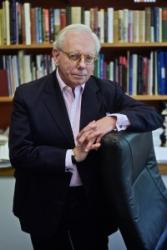 In Henry VIII: The First Brexiteer? Prof David Starkey CBE will draw on his unique knowledge of Henry's reign to offer parallels with the Brexit situation we find ourselves in today.A dark chapter in history is explored by Richard Suggett in 'The Witches of Wales'; the persecution of witches became a shared troubled history in 16th & 17th century Britain.
The first Marquess of Anglesey, a hero of Waterloo, and his commemorative column, which has stood as a familiar landmark since 1860, are subjects of a talk led by Lord Anglesey, the 8th Marquess of Anglesey.
A panel of experts will discuss the 'Welsh Princes: from Owain Gwynedd to Owen Glyndŵr' in the appropriate setting of Bangor Cathedral, since the first Owain was buried there in 1170 and the second burnt it down. Find out what the Welsh bards, as well as Shakespeare, had to say about it.
Prof David Starkey CBE, a constitutional historian and author of numerous books and presenter of television and radio programmes, will speak on the evening of the 25th about Henry VIII: The First Brexiteer? Drawing on his unique knowledge of the man and his reign he will explore parallels with many of today's scenarios. Prof Starkey's talk and visit are eagerly awaited because of the strong Tudor connections with this part of North Wales. Henry's great grandfather hailed from Anglesey and many of his blood relatives would be prominent owners of land and country houses in these parts.
Audiences will also be able to hear about the latest researches and work-in-progress as discoveries are made by Leona Huey and Dr Gary Robinson in the heart of Wales about internment camps from the Easter uprising of 1916, which transformed Irish history.
Edward I is a well-known 'hate figure' in these parts. His castles built in the wake of his conquest of Wales, had many other dark sides, including the explusion of the Jews from the kingdom of England in 1290. However, according to Prof Nathan Abrams, Jews later returned to Britain, as shown in the 19th century with the establishment of the highly successful jewellers, Wartski, first in Bangor and on to London. They, as we all know, made the wedding ring from Welsh gold for Prince William in 2011.
However, if you ever wanted to know 'What have the Normans ever done for us' come and find out from Dr Mark Hagger on Saturday 26th.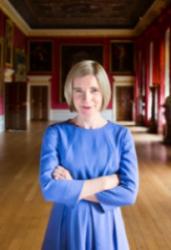 Lucy Worsley's lecture invites us to look at what we think we know about Queen Victoria, exploring the life, the palaces, and the rich colourful age of this woman who ruled a quarter of the globe.: Credit: Historic Royal Palaces, Bloomsbury, Ben Turner
The festival will close on Saturday 26th October with an evening lecture by Lucy Worsley OBE on Queen Victoria – Daughter, Wife, Mother and Widow. She will invite us to look at what we think we know about Queen Victoria; exploring the life, the palaces, and the rich colourful age of this woman, who ruled a quarter of the globe. Lucy Worsley OBE is Joint Chief Curator at Historic Royal Palaces and a presenter of historical programmes such as The First Georgians: The German Kings Who Made Britain, and Six Wives with Lucy Worsley. Simultaneously, Storiel Museum will be exhibiting its Victorian collection: Queen Victoria's dress, her cap, a Welsh doll that was given to her during her visit and more.
The Festival, organised by Bangor University's School of History, Philosophy and Social Sciences is sponsored by Mrs Raj Jones, an Honorary Fellow of the University.
She said: "The Festival should entertain, inform and enthuse all ages and people should come away thinking, now, I did not know that".
She added, "My wish is to make this an annual event. There could be no better setting for such an event than by the shores of the spectacular Menai Straits and in an area steeped in history".
A full programme for the festival, which is generously sponsored by the Tom and Raj Parry Jones Endowment, can be found at: fournations.bangor.ac.uk
Please register by email: fournations@bangor.ac.uk or tel. Pontio Box Office: 01248 382828
Publication date: 23 September 2019