A musical celebration of International Women's Day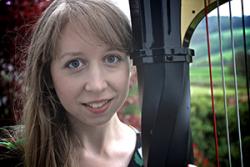 Composer Mared Emlyn, who gained her PhD from Bangor University's School of Music.
Bangor University's School of Music and the Bangor Music Festival will be helping to celebrate International Women's Day on 8 March with the broadcast on BBC Radio 3 of a concert of orchestral music by five female Welsh composers.One of the composers featured is Mared Emlyn, from Eglwysbach in the Conwy Valley, who completed a PhD in Music at Bangor University two years ago. Her piece, Porthor, was inspired by the beach of that name on the Llŷn Peninsula. Known in English as 'Whistling Sands', the beach is famous for the singing sound produced by walking on its sands.
Mared described her piece: "Inspired by Porthor beach and its strange phenomenon, and the Music Festival's theme of 'Voice/Voices', the work begins with a tranquil and expressive cor anglais solo, almost depicting a lonely beach in the winter. The work also makes use of prominent percussion sections, especially the woodblock, representing the sand particles hitting each other. There are dark colours as well as lighter rhythmic passages."
The piece was given its world premiere by the BBC National Orchestra of Wales in the Prichard-Jones Hall last Friday, as part of the annual Bangor Music Festival. Also performed were works by fellow Welsh composers Rhian Samuel, Hilary Tann, Sarah Lianne Lewis, and Lynne Plowman.
"Having the chance to work with the BBC National Orchestra of Wales was an incredibly valuable and exciting experience," said Mared, "from discussing certain aspects of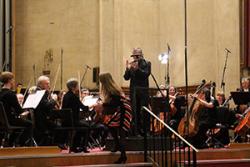 Mared Emlyn congratulates the BBC NOW following the world premiere of her composition, Porthor.my composition with instrumentalists of such musical prowess, to consulting with Tecwyn Evans, the conductor, regarding interpretation. The highlight was to hear my work being performed in Bangor by the orchestra, whose sound I have admired for so long."
Introduced by presenter Katie Derham, the entire concert will be broadcast on Tuesday 8 March at 2pm, when BBC Radio 3 will be celebrating International Women's Day by devoting its airwaves to music by female composers for the whole day. Tune in live, or catch it on the BBC iPlayer Radio for seven days after broadcast.
Publication date: 7 March 2016