A NICE appointment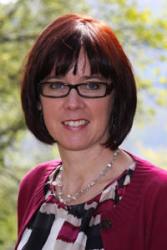 Professor Jo Rycroft-Malone Professor Jo Rycroft-Malone from the School of Healthcare Sciences at Bangor University has recently been appointed as the new chair of the National Institute for Health and Clinical Excellence's (NICE) Implementation Strategy Group.
The Implementation Group advises NICE about its approach and strategies to facilitate the implementation of NICE guidance across the NHS, local authorities and other organisations in England and Wales.
Professor Rycroft-Malone is a Professor of Health Services and Implementation Research, University Director of Research at Bangor University, and is a visiting professor at the University of Ulster and University of Alberta, Canada.
Originally Professor Rycroft-Malone trained as a nurse and then went on to study psychology as an under-graduate and post-graduate. She has an international reputation for implementation research and knowledge translation. She currently holds National Institute for Health Research (NIHR), EU FP7 and Canadian Institutes for Health Research (CIHR) funding worth approximately £5 million to explore both the processes and outcomes of implementation through mixed methods research.
Professor Rycroft-Malone has been a member of a number of international and national and strategy development, 'think tank' and funding groups including the English Chief Medical Officer's 'Clinical Effectiveness Research Agenda Group,' which set the agenda for current funding of implementation research. She is currently on the NIHR Service Health Services Research and Delivery Programme's commissioning board and the Canadian Institute for Health's Research Knowledge Translation Research Funding Committee. Jo has published widely and has presented at numerous national and international health care conferences. She is also the inaugural editor of Worldviews on Evidence-Based Nursing.
Professor Rycroft-Malone said: "I am delighted to have been appointed as the new chair of NICE's Implementation Strategy Group. NICE develops evidence-based guidelines and standards for the NHS, therefore it's important that these are accessed and used. The Implementation Strategy Group has a key role to play in this agenda because it provides advice to NICE about useful and effective implementation approaches and strategies. I am excited about the potential of this role and in enhancing the work of the NICE through the Implementation Strategy Group."
Publication date: 9 August 2012