A Special Welcome for Bangor Uni International Students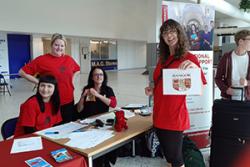 Bangor University's International Education Centre staff ready to offer a friendly welcome to international students arriving at Manchester Airport.The University's International Student Support Office organised an earlier orientation for Bangor's international students this year. This was the first time this was done and the aim was to provide a bespoke and focused welcome programme - giving international students a chance to organise all the practicalities of living and studying in a new country…before the busy central Welcome Week programme!
More than 300 students took advantage of the airport pick up offered from Manchester Airport on Wednesday 17th September – more than double the number usually collected in previous years during Welcome Week. This was then followed by two days of lectures,information sessions, walking and bus tours and a social programme which included a bingo night and a traditional Welsh Twmpath, with PJ Hall completely full with students experiencing a traditional Welsh welcome!
Alan Edwards, Head of International Student Support commented:
"We're very happy with how the earlier orientation panned out and are thankful to all our colleagues at other departments who helped to make the initiative such a success. International students were able to secure their accommodation, get their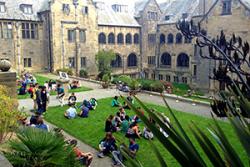 International students relaxing in the Inner quad.registration completed and organise many of the practicalities of moving to, and living in a new country in plenty of time and in a more relaxed atmosphere. The hope is that they can then enjoy Welcome Week and concentrate on School based activities."
The International Support Office continues to provide a programme for international students during the central Welcome Week, so as to ensure that any students who could not attend the earlier orientation continue to benefit from the various information sessions and tours, which culminate in a coach tour of the Snowdonia National Park on Saturday the 27th of September.
Publication date: 25 September 2014