A study tour to the heart of the European Union
Students from Bangor University's Business and Law Schools visited some of the key institutions of the European Union and the Council of Europe in Brussels (Belgium), Luxembourg and Strasbourg (France) last week.
Read the full story here, which was written by Law Masters student, Khalid Yahyea from Bangladesh. His article was published in the Daily Sun today, one of the leading national dailies in Bangladesh.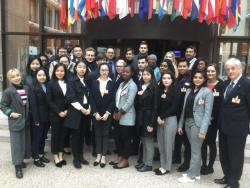 Publication date: 24 November 2017