A Taste Of Language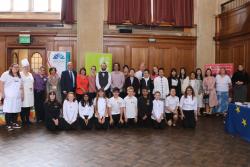 All the participants at the recent Language Feast.Routes Cymru's Language Feast 2019 was hosted by Bangor University recently, and run with the support of several Student Language Ambassadors from the university and a group of year 8 Pupil Language Ambassadors from Ysgol Friars. Four primary schools from the north Wales area took part in the event (Ysgol Sarn Bach, St. Brigid's School, Ysgol Abererch and Ysgol Tudweiliog) and seventy-four pupils from years five and six feasted themselves of the activities on offer throughout the day.
The event was themed around a restaurant experience, each workshop was either starter, main or desert and the volunteers on the day were dressed as chefs and waiters, guiding 'customers' to their proverbial tables. On the menu for the day were taster sessions in French, German, Mandarin and Spanish, classes which explored foreign cultures such as the Chinese calligraphy session run by members of the Confucius Institute and even seminars which explored the wider impact of learning modern languages, for example 'A world of opportunities' session run by British Council Wales.
Routes into Languages Cymru is a pupil-focused project which aims to increase the number of young people learning modern foreign languages through several initiatives and events which last year (2017-18) reached more than 1,000 pupils across Wales and lowered the average number of pupils who did not want to learn a new language from 52% to 19%.
The event was aided by the support of several language institutions and local businesses including; Goethe Institut, British Council Wales, Spanish Embassy Education Office, Signature Leather, Institut Français, MFL Mentoring, Confucius Institute Bangor, GwE Global Futures and Europe Direct Wrexham.
Karen Morrisroe of Europe Direct Wrexham said: "It was great to see so many young people excited about learning languages and realising the great benefits that it brings not just to them personally and in their careers but also for the benefit of the wider economy."
Sylvie Gartau, Global Futures Coordinator at GwE admired the "great opportunities for primary pupils to "taste" different languages" and said that "It was rewarding to see pupils' participation and enjoyment".
Rubén Chapela-Orri, of the School of Languages, Literatures & Linguistics and the Routes Cymru Coordinator in north Wales, said: "It is key that pupils in Wales realise the potential of learning about languages and cultures at an early age, especially now that the new curriculum for Wales is to be implemented. Schools mentioned how much fun their pupils had, and some of them were recapping the vocabulary and phrases they had been learning back in their own schools. It's an inspiration to us all to see how eager to become global citizens they are!"
British Council Wales is grateful for the opportunity to tell young pupils in Wales that languages and internationalism are fundamental for building bridges and trust among the nations of the world. The Language Feast was a real treat for all involved. We are already looking forward to participating next year!

Publication date: 18 July 2019