A visit to the European Athletics Championships results in exciting student research!
Sport, Health and Exercise Sciences Undergraduate, Masters, and now PhD Researcher, Libby Steele, has recently returned from the European Deaf Athletics Championships, which took place in Germany. The purpose of the visit was to view current practices around race starting systems.
Libby said, "This was a fantastic experience where I got to observe a race starting system currently used at top flight competition and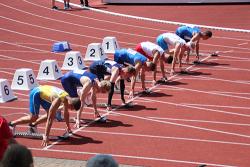 its overall efficiency and practicality. The experience also gave me the opportunity to network with deaf athletes, coaches and competition organisers. I was able to identify some clear shortcomings apparent in the current race starting system. Surprisingly, this included the use of 'auditory' instructions for deaf athletes (!), inconsistent hand signals, and an ineffective traffic light system which was a challenge to see when the sun was bright!"
Dr Gavin Lawrence (Libby's Co-supervisor) indicates the need for a consistent, simple and research based starting system if the UK are to continue to lead with way in sport performance, inclusivity, and athlete development… "Deaf Athletes are typically required to complete against hearing athletes in all levels of competition from grass roots up to the Olympic Games. However, it was clear from the visit that no standardised race starting system currently existing for deaf athletes meaning they could be disadvantaged from performing and progressing during both competitions and throughout development".
Libby's PhD aims to inform the development of a fairer and standardised starting system this over a series of laboratory and field based studies. Libby will investigate reaction times of both deaf and hearing athletes whilst using a variety of unimodal and bimodal stimulus modalities: auditory, visual, tactile. Furthermore, the PhD will allow Libby to investigate barriers into deaf athletics as well as athlete perceptions of different starting systems.
The PhD is a collaborative partnership between Bangor University, UK Deaf Sport and England Athletics, and funded via a prestigious ESRC doctoral training grant.
Lead Supervisor Dr Vicky Gottwald said, "Although the difficulties of operating the current starting system resulted in unfortunate experiences for the athletes competing, Libby's experience in Germany was invaluable. It really highlighted the need for the research, the significance of the PhD and the potential impact the work could have on enhancing equality, opportunity, and provision for deaf participants of track and field athletics."
Publication date: 30 January 2020