Adventure and Beyond: Annual North Wales Tourism Conference, 2018
As thrill seekers head to north Wales, the 'capital' of adventure tourism, Bangor University's Pontio Innovation Centre and Go North Wales, co-host the annual North Wales Tourism conference in Pontio on 6 December. The title of the conference is "Adventure and Beyond".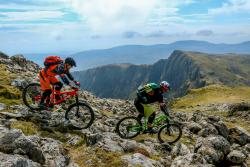 Image: Dan StruthersKeynote speakers are include Lord Ellis- Thomas, Minister for Culture, Tourism and Sport, television presenter, Kate Humble, writer and public speaker, John Thackara as well as Yangtze River Walk adventurer and extreme athlete, Ash Dykes, from North Wales, who will join by video conference.
"North Wales is already a top adventure travel destination" said John Thackara. "This event is about connecting visitors with the social, cultural and natural assets of North Wales in new ways".
Described by Business Week as "one of the great voices on sustainability" - Thackara's talk will feature biodiversity walks, heritage learning journeys, ecomuseums, food routes, code clubs, maker camps - and other examples of what he calls "the new hospitality".
Jim Jones MD of North Wales Tourism said:
"I am really looking forward to this conference. We have designed it to focus on three key themes - wellness, discovery and innovation - and have brought together thought provoking presenters who are extremely engaging. And where better to host a conference on innovation than Pontio Innovation; one of most innovative places in North Wales.'
Delegates to Adventure and Beyond will also brainstorm ideas in small multi-disciplinary groups. A key topic will be the multiple dimensions of wellness and health, to create opportunities for the $4.2 trillion dollar wellness industry.
"The best wellness travel ideas generated in the Beyond Adventure workshops will be developed in this year's Enterprise by Design (EbD) challenge" said Andy Goodman, Pontio Innovation's director.
"This ten-week programme is highly effective in turning would-be-nice ideas into live prototypes that are close to market-ready. We will connect faculty experts and sixty students - from across six schools - with local firms to develop new product ideas".
At the conference, Bangor University will also describe two new degree courses that together will inform and develop innovations within Wellness Tourism.
Jamie Macdonald, Head of Sport, Health & Exercise Science at Bangor University, said:
"Our new undergraduate degree in Adventure Sport Science will apply established, world leading research in Sport Science and Elite Performance within the burgeoning adventure sports industry in Snowdonia."
Andy Goodman added: "Bridging between academic research and industry, students taking our new Masters in Relational Design will work with adventure sport scientists and tourism companies to create new products, services and experiences."
Publication date: 30 November 2018