Agroforestry students travel to Indonesia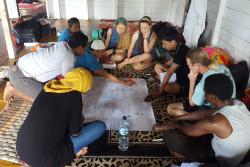 Holding a discussion session with people that had been interviewed on their farms. : © Genevieve AgabaStaff and students from Bangor University travelled to East Kalimantan, Indonesia, as part of a field course on the MSc Agroforestry programme. The field course was organised with the support of the Forest Fruits and Rural Nutrition (FFRAN) project, a joint initiative between Mulawarman University and Bangor University, that aims to determine the role that under-utilised tropical forest fruits could play in alleviating rural childhood malnutrition. FFRAN is a British Council Institutional Links project under the Newton Fund.
The focus of the course was to extract and analyse local knowledge using the Agroecological Knowledge Toolkit (AKT), a methodology and software developed at Bangor University. Using this toolkit allows researchers to understand the farmers' agro-ecological knowledge. As part of the field course, students learnt a variety of qualitative research methods for exploring local knowledge about tree-crop interactions and the roles that trees play in rural livelihoods. They learnt first-hand about the farming systems in the villages visited and were shown a traditional cropping calendar. They conducted focus group discussions and semi-structured interviews with community members. Resource mapping and historical timelines were used to visually represent what was discussed.
At the end of the field course, Abigail Beath, an MSc Agroforestry student, said:
'This trip was an exchange of culture; by living together and forming friendships with people from the Dayak tribe, we learnt about their way of life and thinking. I learnt that no matter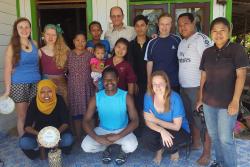 Bangor University students and staff with the family that hosted the group in Temula village, East Kalimantan. : © Genevieve Agabawhat your agenda as a scientist and researcher, the priority should be to respect people and their customs. Without the cooperation of local communities, it becomes impossible to carry out meaningful research into natural resource management. Reading books and journal articles can never be as valuable as actually experiencing a place and its people.'
Dr Mark Rayment, Course Director MSc Agroforestry programme explained:
"As well as being an opportunity for our MSc students to venture deep into the heart of Borneo, this field course has been a way to broaden their understanding of rural livelihoods and to refine their research skills before they start on their dissertations. They've met and worked alongside indigenous people as well as with colleagues at Mulawarman University and its probably fair to say that it has been a transformational experience. One of our students will return to Borneo for their dissertation fieldwork, while four others will be attached to the World Agroforestry Centre and work in Brazil, Vietnam, Zambia and Ghana."
Publication date: 10 June 2018