Airbus, Bangor University and Grŵp Llandrillo Menai start new skills partnership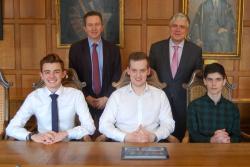 With Prof Oliver Turnbull, Deputy Vice-Chancellor; and Prof Iwan Davies, Vice-Chancellor are the three Airbus apprentices: James Roles, Alexander Jones and Tomos Parry.Three Degree Apprentices at Airbus started the new Applied Data Science programme with Bangor University and delivery partner, Grŵp Llandrillo Menai (GLLM) recently.
The Degree Apprentices, Alexander Jones, Tomos Parry and James Roles, are full-time employees at the Airbus factory in Broughton, Flintshire, where wings for Airbus' commercial aircraft are assembled. Over the next three years they will be taught for a day and an evening a week by Computer Science academics from Bangor University and GLLM. Delivery will be both on the Airbus site and, through a partnership with Coleg Cambria, at their facilities in Deeside and will cover a range of topics.
Fully funded by the Welsh Government, Degree Apprenticeships provide a new route to gain a degree as well as supporting companies to develop business-critical, higher-level technical skills. In a unique partnership in Wales, Bangor University and Grŵp Llandrillo Menai have developed a suite of Degree Apprenticeship qualifications to address the Engineering and Digital Skills requirements of companies, including BSc (Hons) in Electrical / Electronic or Mechanical Engineering; and BSc (Hons) qualifications in Applied Software Engineering, Applied Cyber Security and Applied Data Science.
30 plus Degree Apprentices across North Wales are starting their studies with Bangor and GLLM this Autumn with a range of employers, both in the public and private sector, large and small.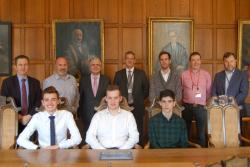 Professor Oliver Turnbull, Dr Dave Perkins, School of Computer Science & Electronic Engineering; Professor Iwan Davies, David Owen, Programme Area Manager; Joseph Owen, HE Curriculum Co-ordinator, Computing & Media, GLLM; Dr Iestyn Pierce, Head Computer Science & Electronic Engineering and Bryn Jones, Head of Knowledge Transfer.
Welcoming the new Degree Apprenticeship Programme with Airbus, Bangor University's Vice-Chancellor Prof Iwan Davies said:
"We are delighted to be starting this exciting collaboration with Airbus, one of the region's most important companies. I'll be following the progress of our Degree Apprentices with great interest and the new programme is a testament to the excellent provision at both organisations. I look forward to building on this important relationship with Airbus in order to further strengthen the regional economy."
Publication date: 14 October 2019