All of Stanley Kubrick's films were Jewish author finds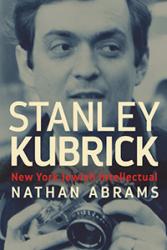 Stanley Kubrick New York Jewish Intellectual by Nathan Abrams is to be published at the end of MarchJewishness threads through all of legendary director Stanley Kubrick's films, a new book finds. Kubrick, who died almost twenty years ago, was famously silent on the meaning of his films. But a new study, Stanley Kubrick: New York Jewish Intellectual by Bangor University professor, Nathan Abrams, shows how it underpinned every film he made.
Kubrick covered many genres and topics and his films broke new ground in cinematic style. His films have been popular with fans and critics alike and have been much watched and discussed. They are open to interpretation as to their messages and can be both analysed and enjoyed on a number of levels. But Kubrick, who is possibly the most written about film director after Alfred Hitchcock, has rarely been thought of as a Jewish director. This is because few have bothered to probe it any detail.
Abrams offers up a new angle with which to interpret Stanley Kubrick's films. Although Kubrick was not a practicing Jew and the Jewish references and viewpoint are not explicit or obvious in his films, Nathan Abrams argues that once you consider his films from the standpoint of his ethnicity, and his cultural milieu, then some resonant themes emerge.
Dr. Strangelove and Full Metal Jacket are both, on one level, about the Holocaust and man's propensity to evil and genocide. 2001: A Space Odyssey, which celebrates its 50th anniversary this year, is a probing look into the Old Testament and Jewish mysticism known as Kabbalah, argues Abrams. Or, The Shining, Kubrick's contribution to the horror genre deals with the very biblical theme of the sacrifice of the son by the father.
"Kubrick's films never offer up anything easy or obvious," says Abrams. "He made few statements about his films. He spent a long time working on his films, he was an obsessive and paid great attention to detail. He was extremely cultured and cultivated and certainly had views that he wanted to share- but I suspect, looked for the least obvious ways of getting his messages over to the viewer, who he wanted to make work to understand his deeper messages.
"I cannot prove beyond doubt that Kubrick intended his films to be understood the way that I perceive them, and a visual medium such as film is always open to interpretation, but neither can I believe that a director who thought so deeply about his work would allow us to misinterpret his films".
Stanley Kubrick: New York Jewish Intellectual will be published by Rutgers University Press in March 2018.
Nathan Abrams is Professor of Film Studies at Bangor University in Wales.
Publication date: 1 March 2018