An innovative project to create an educative package about community energy in Wales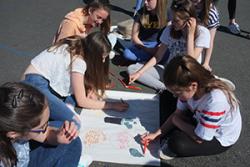 Year 8 pupils at Ysgol Dyffryn Ogwen, Bethesda create a poster outlining what they see as the economic, social, environmental and cultural benefits of community energy.A brand new educative resource about community energy was trialled amongst pupils in Dyffryn Ogwen Secondary School, Bethesda on Wednesday the 12th of July. The cartoon novel 'Tick-Tock: A graphic novel about energy, ownership and community' was developed by Sioned Hâf and Angharad Penrhyn Jones, as a part of an initiative to raise awareness of the community energy sector in Wales. This online graphic novel follows in the footsteps of Gwenno, the main character of the story, as she questions the present energy system and discovers the potential of community energy in contributing towards her villages' long-term future sustainability.
Dr Sioned Hâf, one of the projects organisers said:
"Awareness of the potential of community energy in Wales tends to be sporadic and hazy. The purpose of this resource, is to ensure that our young people have an opportunity to question our current energy system, the history of our natural resource and fossil fuel use, and to question matters to do with ownership and developing renewable energy locally, for the benefit of communities. Although this whole package is developed as an educative resource, the novel itself is available for anyone who wants to read a simple story about how communities can have ownership over their local resources and their future through cooperation. The story is also a reflection of, and dedicated to the tens of community energy projects and the devoted individuals that lead them across Wales."
Partners of the project include community energy groups Ynni Ogwen, Awel Aman Tawe, Green Valleys, DEG and Community Energy Wales. The final package will be launched at 11.00-12.00 on the 12th of August on Bangor University's stall in the National Eisteddfod. The resource will be available in Welsh and English.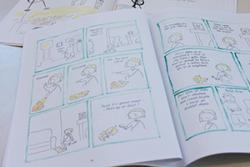 The cartoon novel 'Tick-Tock: A graphic novel about energy, ownership and community' is available online.Dafydd Roberts, one of the facilitating teachers in Dyffryn Ogwen said:
"This is an important project for us in the school. It is wonderful to have a resource that helps us to introduce and examine the community energy sector. It's great that our pupils have an opportunity to read a story in graphic novel form, which is a great format for kids of all ages, and then have a discussion about subject like ownership and creating local clean energy for the benefit of the community. It is also ideal for us, because there is a community energy project, Ynni Ogwen, in our village, so it's great to be able to bridge activities with this innovative project.
This project has been funded by the Bangor University ESRC Impact Acceleration Account (IAA).
Publication date: 13 July 2017