An opportunity to hear about the history of an influential student Society
A former member presents the illustrious history of Cymdeithas y Ddrama Gymraeg.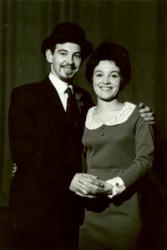 Actors John Ogwen and Maureen Rhys in a student production during their student days.Following the re-founding of Cymdeithas y Ddrama Gymraeg, (the Welsh Drama Society) in 2012 and the success of its first full year of performances and workshops, the Society has invited one of its former members to give a talk on its interesting and influential history.
On the 22nd of October 2014 Dafydd Glyn Jones, who was also a Reader at the Department of Welsh at the University's School of Welsh and a notable expert on the Welsh drama will be joining members to shed light upon some of the adventures of the Society since the formal founding in 1923 under the presidency of R. Williams Parry.
Some of the present members will also be taking part on the night by preforming a few choice scenes from some of the plays that the Society performed in the past.
"We are really looking forward to hearing some stories and facts about the Society's past, as it has been so influential and successful in its day. We are also very lucky to have a guest speaker who is not only a previous member but also a notable academic in the field of drama," said Llŷr Titus, a member of the current committee.
The event will be held in JP Hall, Bangor University at 7:30pm, Wednesday the 22nd of October 2014. There will be light refreshments to follow. Tickets are £3 on the door and a warm welcome is extended to all.


Publication date: 21 October 2014