Angharad reaches Book of the Year shortlist
A book written by a Senior Lecturer from the School of Welsh has been shortlisted for 2014 Wales Book of the Year Award.

Ffarwél i Freiburg: Crwydriadau Cynnar T.H. Parry-Williams (which translates as Farewell to Freiburg: Early wanderings of T.H Parry-Williams) by Dr Angharad Price delves into the poet's early years and the fundamental influence it had on his poetry and writings.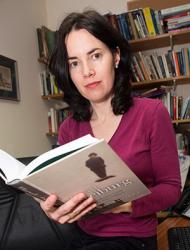 Dr Angharad Price

The book follows the life and work of T.H Parry-Williams between 1887 and around 1919. It covers the period when the writer left home to go to secondary school, and the experience of being a conscientious objector during the First World War.

"Whilst residing in Freiburg, Germany, T.H Parry-Williams attended psychology lectures, and at the time it was a relatively new university subject." said Angharad Price.

"This had an obvious influence on his work and there is also evidence that the German language had an impact on him - in the way he combines words to form new words."

There are nine books on the Wales Book of the Year Shortlist this year; three Fiction, three Poetry, and three Creative Non-fiction.

The winner in each category will receive a prize of £2,000, and the overall winner will receive an additional £6,000.

The Wales Book of the Year Awards Ceremony will be held at Galeri, Caernarfon on July 10th.
Publication date: 27 May 2014