Another novel on the way – thanks to inspiration from the School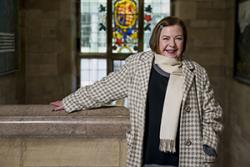 Ruth RichardsRuth Richards from Anglesey is preparing to launch her third volume of prose thanks to the School of Welsh at Bangor University.
Her debut novel Pantywennol was published in 2016, and was part of her MA Creative Writing course at Bangor. Pantywennol came close to winning the Prose Medal at the National Eisteddfod and has received high praise and in recent years has become one of the Welsh best sellers.
"I wouldn't have written anything were it not for the course," said Ruth. "I wanted to write, but I hadn't the confidence to do so.
"I had so much support, not only gaining the experience and knowledge of the staff but the opportunity to discuss the process of creating with fellow students – that was nice."
Following the publication of a volume of short stories, next up is another novel, one that celebrates the idea of 'camp' through the medium of Welsh.
"The novel is about the fifth Marquess of Anglesey who had spent a fortune on clothing, theatre and dance," says Ruth. "The novel is titled Siani Flewog, what else can we call a novel about a man with moustache who wears a dress!"
Ruth's inspiration came from seeing pictures of the Marquess at Plas Newydd, Anglesey; although he didn't receive as much attention as the more famous military Marquess, a statute of which is perched on a column at Menai Bridge.
"This Marquess had to spend money for him to be himself," said Ruth, who is now doing a Doctorate with School of Welsh.
Her research focuses on the relationship between the novelist Daniel Owen and an early photographer named John Thomas, who thrive in the same period and took pictures of the type of people and society described in the novels.
"I'm studying for my Phd on a part-time basis which suites me perfectly as I am able to carry on with my part-time job with Dyfodol yr Iaith."
Publication date: 20 March 2018