Another successful Student Christmas Market
The B-Enterprising team at Bangor University hosted the 7th successive Student Christmas Market in PJ Hall before Christmas.
Once again the Bangor University Student Christmas Market has attracted overwhelming support from customers across the university and beyond. A total of 12 staff and 178 students with 82 stalls between them offered a wide range of handmade products such as jewellery, arts & crafts, cards and decorations, knitted & crochet goods, handmade soaps, plushies, cakes, international foods, artwork and photography. Over 2,000 visitors who came through the doors during the afternoon had an opportunity to buy unique gifts with some of the profits going to charity.
Stallholders will have earned 15 BEA (Bangor Employability Award) xp for running a stall and further points through participating in the supporting workshops held during the weeks leading up to the event.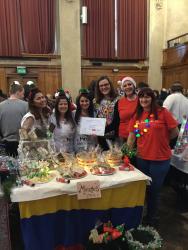 The Best Stall Award went to students Sandy Perez-Robles, Andrea Marin-Merizalde and Alejandra Vergara-PenaRhiannon Quirk who was running the Little Quirk Plush stall said: 'I really enjoyed attending the Christmas Market, it's given me the chance to meet my customers and receive direct feedback. Last year's market was a big success and I'm hoping this years will be just as good.'
Live music provided by the University' Brass Band and Concert Band throughout the afternoon added to the festive feel.
Many stallholders donated some of their profits to charity. Some of the charities set to benefit are Snowdonia Animal Sanctuary, Treborth Botanic Garden, Tŷ Gobaith and many more.
Many of the Students' Union Clubs and Societies also held stalls to raise money for their society budget, including RAG, the Dog Walking Society, Bangor Forestry Student Association and Bangor Afro-Caribbean Society.
The Best Stall Award went to students Sandy Perez-Robles, Andrea Marin-Merizalde and Alejandra Vergara-Pena and this was awarded by Diane Roberts from Santander Universities.
The winner of the Most Innovative Product Award chosen by Cerri Williams from the Welsh Government was Coeden Noeth by Laura Haggett. About receiving the Award Laura said: 'What a lovely surprise, the hard work has really paid off and I would like to thank the University for this opportunity to showcase my bath and body products which are free from plastic packaging, have biodegradable ingredients and are suitable for sensitive skin'.
The Market is currently part funded via the Welsh Government's Youth Entrepreneurship Programme.
B-Enterprising would like to thank everyone who gave their support during the day including the student helpers, Property and Campus Services for behind the scenes team in helping set up, Commercial Services for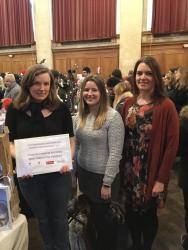 Winner of the Most Innovative Product Award: Coeden Noeth by Laura Haggetthelping out with refreshments, the Welsh Government and Santander Universities for sponsoring the best stall, the Welsh Government Youth Entrepreneurship Team for providing the funding, and most of all to the student and staff stallholders themselves for their enthusiasm, for putting so much effort into creating their products and for being enterprising!
Publication date: 7 December 2017