Another successful Student Christmas Market
The B-Enterprising team at Bangor University hosted the 9th successive Student Christmas Market recently.
Once again the Bangor University Student Christmas Market attracted overwhelming support from customers across the University and beyond. A total of 10 staff and 180 students with 110 stalls between them offered a wide range of handmade products such as jewellery, arts & crafts, cards and decorations, knitted & crochet goods, handmade soaps, cakes, international foods, artwork and photography. This year, many products had an eco-friendly theme, with stallholders wanting to re-use and upcycle items that may have otherwise been destined for the landfill. Over 2,000 visitors who came through the doors during the afternoon had an opportunity to buy unique gifts with some of the profits going to charity.
Many of the Students' Union Clubs and Societies also held stalls to raise money for their society budget, including RAG, the Dog Walking Society, Bangor Forestry Student Association and Bangor Marrow.
Student stallholders will receive recognition on their academic transcript for running a stall at the Market and for participating in the supporting workshops held during the weeks leading up to the event.
Live music provided by the University's Concert Band and the Student Operatic Drama Association added to the festive feel.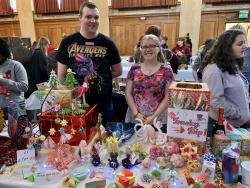 Dominic and RachelThe Best Stall Award went to postgraduate students Rachel Tresidder and Dominic Newell, and was awarded by retail expert, Helen Hodgkinson of Indi Business Training. Rachel is studying Marine Biology & Zoology and Dominic is studying an MRes in Electronic Engineering.
Dominic started OriMagic in 2014. He has been making origami since he was 9 years old and started making modular 3D models when he was 12. Dominic met Rachel at the 2016 Student Christmas Market, they are now engaged to be married in 2020.
Dominic said: "The University Christmas Markets have given us the chance to reach an audience we could never have dreamed of reaching. We have had people returning to our stall each year as they loved our models that much, and models have been sent across the UK, even to America and Spain! In the future we hope to launch a website and sell our models online."
Rachel said: "Meeting Dominic at my first market was like a story from the fairy tales book I read as a child. I have loved learning how to make the origami models and now I am proud to be able to create models for OriMagic alongside Dominic. I have been so happy to return to the Christmas market every year and I can't believe this was our final year! But, despite this, we will never stop designing new models and enjoying the looks of wonder on peoples' faces as they see what we have made."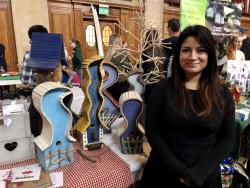 Patty DiazThe winner of the Most Innovative Product Award as chosen by Cerri Williams from the Welsh Government was Patty Diaz. Patty is an International Commercial and Business Law postgraduate student selling bird houses made from 100% reclaimed products and designed by her and her fiancé. The aim is to provide handmade wildlife habitats from salvaged and recycled wood.
Patty said: "We work with the ethos that all our products will assist the environment and wildlife. All bird houses are made from items destined for landfill. Winning this award is highly encouraging for us and we are so very happy! Thank you for the opportunity to showcase our product at Bangor University. Starting a business is a big commitment and we have been considering this for a while. We will be launching our business in January."
The Market is currently part funded via the Welsh Government's Youth Entrepreneurship Programme.
B-Enterprising would like to thank everyone who gave their support during the day including the student helpers, Property and Campus Services for behind the scenes team in helping set up, Commercial Services for helping out with refreshments, the Welsh Government and Santander Universities for sponsoring the best stall, the Welsh Government Youth Entrepreneurship Team for providing the funding, and most of all to the student and staff stallholders themselves for their enthusiasm, for putting so much effort into creating their products and for being enterprising!
Publication date: 10 December 2019