Archaeological 'dig' opens to the public for British Festival of Archaeology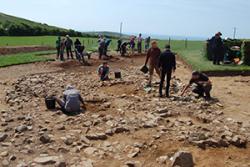 Members of the public are invited to see what archaeologists, students and volunteers have uncovered at the exciting Meillionydd archaeological dig at Rhiw.Members of the public are being invited to visit an archaeological excavation of a settlement unique to North West Wales, near Rhiw on the Llŷn peninsula this week-end (15-16 July).
Led by Prof Raimund Karl, Dr Kate Waddington, and Katharina Möller of Bangor University's School of History and Archaeology, archaeologists, students and volunteers have been excavating 'The Meillionydd Project' (http://meillionydd.bangor.ac.uk/) since 2010, and are taking part the Council for British Archaeology's Festival of Archaeology (www.archaeologyfestival.org.uk).
As part of the open day weekend, visitors will be able to join one of the site tours (in English and Welsh) and see finds from current and previous seasons' digs. More information can be found on the festival website (http://www.archaeologyfestival.org.uk/events/2736) and the excavation's Facebook page (https://www.facebook.com/meillionydddig).
Meillionydd is described as a Late Bronze Age/Iron Age double ringwork enclosure and is a type of settlement unique to North West Wales. There are nine known sites on the Llŷn and two on Anglesey.
Now running for the eighth season, the excavations reveal interesting information about the past, for example, the discovery of glass slag this year suggests that the glass beads, found in earlier years may have been manufactured on site. This season's excavation is focussed on the north-eastern part of the enclosure. The outer bank and a few roundhouses are already clearly visible.
Archaeologist Katharina Möller explains:
"Radiocarbon dating has shown that people lived or worked on the site for around 500 years, from the 8th century BC to the 3rd century BC. Over this period of time the settlement at Meillionydd first changed from an unenclosed site with timber roundhouses to one with timber enclosures. The wooden palisade was later replaced by two earth and stone banks. Roughly at the same time stone roundhouses replaced the previous timber houses. All in all, work on site revealed at least eight construction phases and various sub-phases."
Aside from well preserved archaeological features like roundhouses, the team of archaeologists, students and volunteers from all over the world have unearthed finds such as decorated glass beads, a piece of a jet bracelet, and decorated spindle whorls.
"While being exciting for the research, Meillionydd is also a great place where many students have started their careers in field archaeology as it is also run as a training dig for students and volunteers alike", said Nebu George, a student at Bangor University and long-time member of the Meillionydd team.
"The site is peculiar for its multi-culturalism as students and volunteers from Bangor and other British universities, Vienna University and volunteers from America, Australia, Austria, Brazil, Hungary, the Netherlands, Sweden, and Switzerland have been a part of this dig. Quite a few students have also used the experience gained at Meillionydd to pursue a career in commercial archaeology."
Tours run between 10.00-4.00
Google co-ordinates: 52.829729,-4.641886
Directions: From Pwllheli take the A499 towards Llanbedrog. Follow the B4413 to Aberdaron until you reach Botwnnog. Turn left onto the small road when you reach the chapel at the start of the village and follow the road until you reach the excavation. The site will be on your right.
Publication date: 11 July 2017