Archive of the month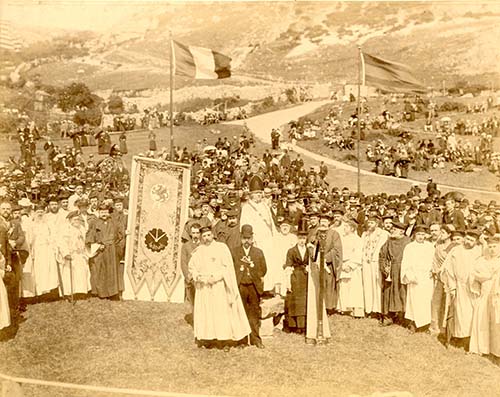 Archive of the month: Llandudno Eisteddfod 1896
The Gorsedd ceremony to open the 1896 Eisteddfod at Llandudno was held in Happy Valley. The Archdruid for that year was Hwfa Môn (seen here standing on the Gorsedd stone). The banner was embroidered in gold with oak leaves, leeks and mistletoe. It comprised of a rampant dragon in the centre of a radiant sun and the Gorsedd mottoes : "In the light of the sun, the eye of light", "The Truth against the World"
This year, the Eisteddfod is held in Denbigh, with the first female Archdruid leading the main ceremonies, Christine James.
The Archives are responsible for the care and storage of the early College Records as well as our Archives Collections and General Collection of Bangor Manuscripts. All of these manuscript collections are bound by one common factor, their relevance to the history, people and topography of North Wales. However, their subject areas are wide ranging and are of national as well as local historical interest.
All images, photographs and documents appearing on this page are subject to copyright restrictions.
Publication date: 5 August 2013