Archive of the month
Women's Institute, Llanfair Pwllgwyngyll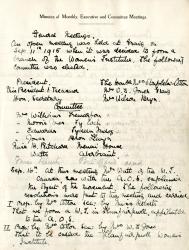 Here is a page from the Minute-book of the Women's Institute Llanfair Pwllgwyngyll, Anglesey, September 1915.
The origins of the Women's Institute can be traced back to Stoney Creek, Ontario, Canada in 1897. The aim of the Canadian movement was to support women from isolated communities by giving them training in home economics, child care, and farming. The First British WI was started in Llanfair PG, Anglesey on September 16th, 1915. The main purpose of the British movement was to help with the war effort, specifically in teaching women how to grow and preserve food.
This manuscript will be on display in the Vice-Chancellor's corridor from the 8th until the 31st of March as part of the "Empowering Women in Times of Austerity" exhibition.
This exhibition is a celebration of 20 years of the Women's Studies MA at Bangor University. The exhibition consists of archival material held at Bangor University, which recognises the work of local movements and societies that have empowered women in times of austerity in the past. Themes of suffrage, education and the war, which were significant in empowering women, are all represented. By drawing attention to the remarkable collections relating to women held at Bangor University Archives, it is hoped that students today, on the Women's Studies course, will identify research projects for the future.
The Archives are responsible for the care and storage of the early College Records as well as our Archives Collections and General Collection of Bangor Manuscripts. All of these manuscript collections are bound by one common factor, their relevance to the history, people and topography of North Wales. However, their subject areas are wide ranging and are of national as well as local historical interest.
All images, photographs and documents appearing on this page are subject to copyright restrictions.
Publication date: 1 March 2014