Archive of the month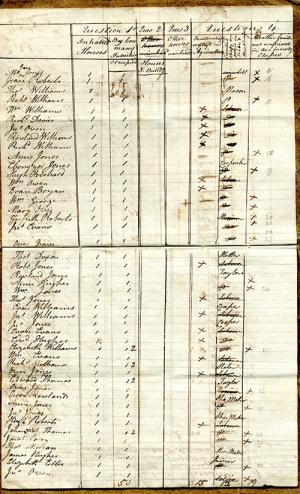 Census of Beaumaris 1821
This census of the population of Beaumaris was conducted in 1821. Two volumes were produced – this second volume lists the names of the householders and provides details about the number of families who were living in each house. Information is also given regarding the employment of the population. Families were asked whether they were either 'chiefly employed in agriculture', in 'trade manufacturing or handicraft', or other employment.
The Archives Department can now offer free access to Find My Past. This perfect resource for genealogists can be used with our original manuscripts such as the census of Beaumaris 1821. Contact the Archives for further details
All images, photographs and documents appearing on this page are subject to copyright restrictions.
The Archives are responsible for the care and storage of the early College Records as well as our Archives Collections and General Collection of Bangor Manuscripts. All of these manuscript collections are bound by one common factor, their relevance to the history, people and topography of North Wales. However, their subject areas are wide ranging and are of national as well as local historical interest.
Publication date: 1 April 2014