Archive of the month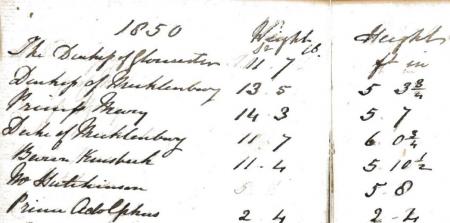 Intriguing Penrhyn notebook
Here is an extract taken from a notebook discovered recently by Sarah Vaughan, Archivist, whilst cataloguing the Penrhyn Castle Papers.
It contains various random figures dated between 1850 and 1902, which on closer inspection reveal themselves to be data regarding the height and weight of different individuals – Pennant family members and visitors to Penrhyn Castle!
The reason for creating such a record, simply entitled "Weight of everybody", remains a mystery, as does the identity of the author.
For further information, take a look at the "Sugar and Slate Project" webpage.
Bangor University Archives are responsible for the care and storage of the early College Records as well as our Archives Collections and General Collection of Bangor Manuscripts. All of these manuscript collections are bound by one common factor, their relevance to the history, people and topography of North Wales. However, their subject areas are wide ranging and are of national as well as local historical interest
Publication date: 30 September 2015