Archive of the month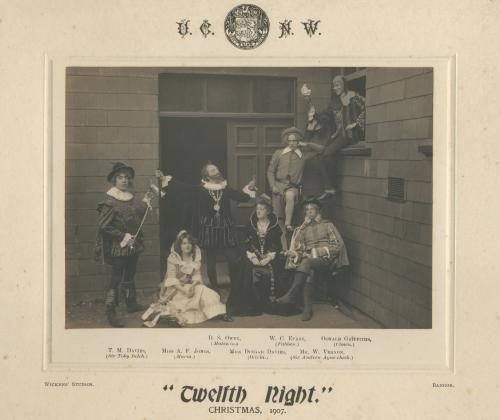 A U.C.N.W. production of Twelfth Night by William Shakespeare, performed Christmas 1907. Individuals and their roles named.
Photographer: Wickens' Studios, Bangor.
Bangor University Archives are responsible for the care and storage of the early College Records as well as our Archives Collections and General Collection of Bangor Manuscripts. All of these manuscript collections are bound by one common factor, their relevance to the history, people and topography of North Wales. However, their subject areas are wide ranging and are of national as well as local historical interest.
Visit our website http://www.bangor.ac.uk/archives or our online catalogue http://calmview.bangor.ac.uk/Calmview for further information about our collections.
Publication date: 1 December 2015