Archive of the month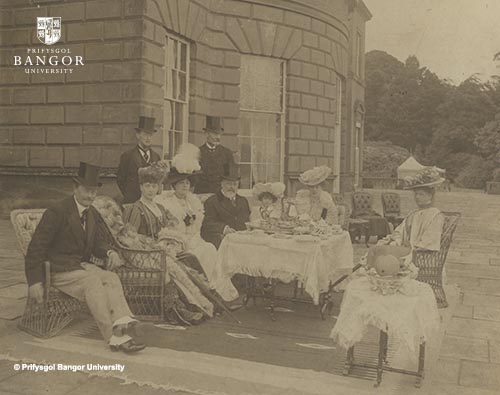 Photograph of "The Royal Party on the Terrace at Baron Hill, Beaumaris" taken on the 9th of July 1907.
Amongst the guests are:
Back row (left to right): H.R. Hughes (Kinmel) and Lord Tweedmouth.
Front row: (left to right) Sir R. Bulkeley Bart., H.M. the Queen, Lady Magdalen Bulkeley, H.M. King Edward VII, Miss Siriol Bulkeley, H.R.H. Princess Victoria and the Countess of Gosford.
On the same day, the King also attended the laying of the foundation stone ceremony at the University College of North Wales in Bangor.
This photograph was purchased recently at a local auction by Mrs Mary Simpson of Newborough, a friend of the Archives and Special Collections. She was eager that a copy of this photograph should be added to our collections, since the Baron Hill papers are held by the University and because of the historical royal connection with the founding of Bangor University.
If you have any photographs in your possession which you think might be of interest to the Archives and Special Collections, please do not hesitate to get in touch!
Bangor University Archives are responsible for the care and storage of the early College Records as well as our Archives Collections and General Collection of Bangor Manuscripts. All of these manuscript collections are bound by one common factor, their relevance to the history, people and topography of North Wales. However, their subject areas are wide ranging and are of national as well as local historical interest.
Visit our website http://www.bangor.ac.uk/archives or our online catalogue http://calmview.bangor.ac.uk/Calmview for further information about our collections.
Publication date: 1 January 2016