Archive of the month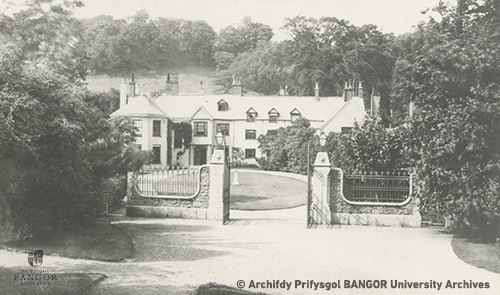 Postcard photograph of the main entrance to the 'Bishop's Palace,' Bangor, c1890s in date.
'The Bishop's Palace,' which became the Town Hall in recent decades, dates to the mid 16th Century.
Most recently The Gwynedd Museum and Art Gallery, 'Storiel', relocated to the building, opening its doors to the public on the 30 January 2016.
From the R.T. Pritchard Collection.
If you have any photographs in your possession which you think might be of interest to the Archives and Special Collections, please do not hesitate to get in touch!
Bangor University Archives are responsible for the care and storage of the early College Records as well as our Archives Collections and General Collection of Bangor Manuscripts. All of these manuscript collections are bound by one common factor, their relevance to the history, people and topography of North Wales. However, their subject areas are wide ranging and are of national as well as local historical interest.
Visit our website http://www.bangor.ac.uk/archives or our online catalogue http://calmview.bangor.ac.uk/Calmview for further information about our collections.
Publication date: 5 February 2016