Archive of the Month – January 2019: George Hartley Bryan (1864-1928)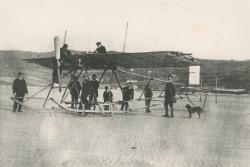 A glider test flight at Traeth Coch.: Copyright: Photograph courtesy of Mrs. E.G. Williams.
The Papers of William Ellis Williams are held by the University Archives and Special Collections department.
George Hartley Bryan was Professor of Pure & Applied Mathematics at Bangor from 1896 until his retirement in 1926. In 1911 he published 'Stability in aviation; an introduction to dynamical stability as applied to the motions of aeroplanes', a book that established Bangor at the forefront of new scientific advances. The publication was the result of research in Bangor and the surrounding area on the stability of gliders, working with William Ellis Williams, a local student who graduated in physics and mathematics (he later became Professor in Electrical Engineering at the University) and Edgar Henry Harper, another Bangor student, who assisted with the investigations. The importance of Bryan's contribution to aeronautics was widely recognised in 1914 when he was presented with the gold medal of the Royal Aeronautical Society – the second ever awarded (the first was presented to the Wright Brothers).
Publication date: 7 January 2019