Arriva and the University mark climate week with free bus travel offer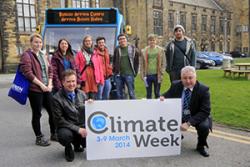 Arriva Buses Wales has teamed up with Bangor University to offer FREE travel for students and staff commuting to and from the university during Climate Week.
From the 3rd to 7th March 2014, all students and staff travelling to and from Bangor University will be awarded free travel on Arriva buses for the week. To take part, all Bangor University Climate Week supporters need to do is show a valid and barcoded Bangor University Staff/Student card to the driver, hop on board and feel good about doing their bit for the environment.
Barry Mellor, Business to Business Manager, Arriva Buses Wales, commented: "Here at Arriva Bus Wales we wanted to do our bit for Climate Week to encourage people to give bus travel a try. By teaming up with Bangor University to offer staff and students free travel, we can hopefully work together to cut carbon emissions and spread the word.
"The bus ride into University is the perfect time for a little extra study too!"
Ricky Carter, the University's Environmental Manager said: "At Bangor we are making great strides in becoming a more sustainable University. We are asking ourselves what our impacts are and what we can do to improve things.
"This generous offer from Arriva not only encourages our staff and students to consider a more environmentally friendly alternative to their car journey to University, but also promotes the health and wellbeing advantages of using public transport to commute. Without Arriva's help such an initiative wouldn't be possible."
Climate Week is Britain's biggest climate change campaign and aims to inspire new waves of action to create a sustainable future. If you're thinking about how you can make a difference in Climate Week, check out the savings that you could make by using public transport rather than driving each day by using Arriva's online calculator arrivabus.co.uk/fuel
Publication date: 26 February 2014