Arthurian Legends take academic home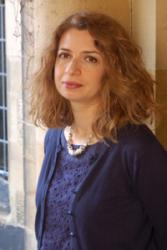 Dr Raluca Radulescu.
An academic who fell in love with Arthurian literature while an undergraduate student in Romania is returning to her homeland to present her latest research at an international conference of Arthurian experts from around the world.
The Congress of the International Arthurian Society is hosted by the Centre for Medieval Studies at the University of Bucharest, Romania, in July (20-27 July 2014).
Dr Raluca Radulescu is now a leading international expert on Arthurian Literature, and lectures at Bangor University's School of English, where she leads the world's only MA course in Arthurian Literature. She also edits the recently launched Journal of the International Arthurian Society, the latest publication in 65 years of scholarly publications by this academic Society.
Dr Radulescu is presenting a paper on relationships in Arthurian literature. She will be tracing the pan-European development of a particular way of expressing brotherly love and companionship in the Arthurian legends. The implications of this study are far-reaching, since the way in which positive and negative emotions are expressed in early literature can reveal much about human psychology as well as behavioural norms in medieval society.
Dr Radulescu explains:
"Early literature, and in particular its relationship to a variety of dimensions, such as cultural trends, political action or indeed religious outlook, have fascinated me from childhood. I have always looked to the past in order to better understand the present, be it via old myths and legends that endure through centuries and millennia, or through the development of languages (particularly through the study of etymology and translation), to take just two examples.
"With respect to Arthurian literature, its perennial appeal comes from the myth of Arthur, a king expected to be reborn, offering hope not only to those who believe in his presumed historical reality, but also those dreaming of a better order of things. The many retellings of the Arthurian legend in the vernacular languages of the Middle Ages such as French, German, Italian and Dutch show the pan-European appeal of the legend. We might even say that long before the European Union of today, many nations and peoples of the Western Middle Ages wanted to partake in the legend of the Round Table and its alleged equality principles. The myth endures today for much the same reasons, as a memorable, and trans-national story that allows modern writers to blend magic with allusions to the contemporary political reality – just as medieval authors did."
Dr Radulescu will also be contributing to the plenary session on the topic of a new pan- European project entitled 'Late Arthur', which focuses on the development of the Arthurian legend in the later medieval period, and its influences in the sixteenth and seventeenth centuries. Within this project Dr Radulescu is coordinating the section dealing with cultural, literary political and social contexts in which Arthurian studies flourished in the British Isles during these periods, by commissioning chapters from leading experts in the field and contributing her own
Publication date: 10 July 2014