As seen on TV!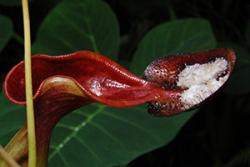 A particular shrew is attracted to the sugary coating on this pitcher plant species- with beneficial results for the plant!A carnivorous plant described in a recent episode of BBC2's Wonders of the Monsoon can be seen at Treborth Botanic Garden and is thought to be the only one on Wales and one of only a few samples in the UK.
The particular species of pitcher plant (Nepenthes lowii), currently in full 'flower' has a particularly interesting relationship with a shrew found in its native habitat in Borneo. Whereas most pitcher plants are carnivorous in some way, this one has a more peaceful relationship with a particular shrew (Tupaia montana) - and that relationship was only discovered in 2009.
When completely 'open' this pitcher plant provides a comfortable platform for the shrew to sit and eat and attractive sugar which the plant also produces. But unknown to the shrew, the sugar is also a laxative, so as the shrew sits on the leaf, it relives itself into the 'pitcher'. The plant then uses the 'gift' as a source of nutrients.
Nigel Brown, Curator of Treborth Botanic Garden explained that very few of these plants are grown in specialist houses or gardens in the UK and few mature to the stage where the 'shrew platform' or shrew loo can be seen clearly.
Treborth Botanic Garden can be visited between 9-5 on weekdays and by appointment (see website contact details) at the week-end.
Publication date: 28 October 2014