Aspirational Mentoring
Pupils from Holyhead High School were given a unique insight into university life recently through mentoring sessions by student role models from Bangor.
Students and Year 7 pupils who completed the Aspirational Mentoring programme received a certificate in a special celebration at the school.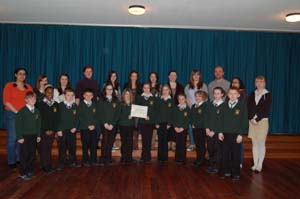 The programme, previously run by Reaching Wider was this year run by the University itself and is aimed to encourage pupils to find out about university and to consider it as a possibility for their future. Kim Davies, Reaching Higher Reaching Wider Coordinator for the University said: "We provide a group of student mentors to act as role models and to run a series of sessions with the pupils once a week for 7-8 weeks. The sessions aim to increase their awareness of post 16 education in general and HE in particular. The students design their own sessions to meet the needs and interests of the pupils they are working with and they typically include games, fun worksheets, mock interviews and discussions."
Catrin Morris, 21, from Pwllheli, a third year Journalism and Media Student student at Bangor, joined the scheme as she is interested in becoming a teacher. The former Ysgol Glan y Mor pupil said: "This is a great opportunity and I am certain that this is what secured me a place on a PGCE course next year, they were very impressed at the interview when I said I had taken part. I would recommend the scheme to all students, in fact I already have! A lot of my friends are very jealous that I got the chance to take part in such a scheme."
Donna Davies, 21, from Llanuwchllyn near Bala, a third year Sociology student at Bangor was very happy with the success of the programme. The former Ysgol y Berwyn pupil added: "I wanted the experience of working with young people as this is the kind of work that I would like to do in the future.
"We played games with the pupils and took part in workshops to make them think about the future and explain some of the opportunities that are available to them. We made sure to point out the connection between what they are interested in and how that can lead to a career."
Elinor Compton, 22, is a postgraduate student at Bangor University. She is from Derby. She added: "I am going to complete a PGCE course next year so this is a great opportunity to show that I have relevant work experience and that I know how to plan lessons. This is the second time I have taken part in the scheme as I enjoyed it so much the first time. I would recommend the scheme to other students, even if you are not interested in teaching, it is just such a great experience."
Bangor University will be continuing to work closely with the pupils of Year 7 as they move up through the school with other projects which come under the Talent and Opportunities Programme (TOP).
Nia Wyn Roberts the Assistant Head of Holyhead High School said: "This was a fantastic opportunity for Ysgol Uwchradd Caergybi and the pupils benefited enormously from the sessions with the student mentors. The scheme enabled them to develop new skills and possibly start considering university education. As such we are very grateful for the continued support from Bangor University and we wish the students well in their forthcoming examinations"
Publication date: 22 March 2013