Associate Member of The Colclough Centre Invited to Celebration of Best Selling Author's Career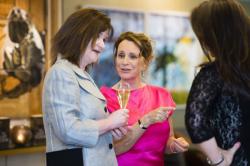 Philippa Gregory with Hazel PierceDr Hazel Pierce, an Associate Member of the Stephen Colclough Centre for the History and Culture of the Book, recently attended a glittering event at the Ivy Club, London, to celebrate Philippa Gregory's thirty years as a published author. Philippa Gregory writes historical novels and is one of the UK's most successful authors with her books regularly hitting the No 1 bestseller spot. Furthermore, her novels have been adapted for television whilst The Other Boleyn Girl (2008) became a Hollywood film starring Natalie Portman and Scarlett Johansson.
Among those attending the celebration were HRH Princess Michael of Kent, and historian, author and broadcaster Professor Kate Williams, whilst messages of congratulation included those from authors Hilary Mantel, Kate Mosse and former Radio 4 presenter Sue MacGregor.
Hazel revealed, 'I was delighted to be invited by Philippa to this anniversary celebration.' Hazel completed her PhD thesis in 1997 and in 2003 it was published by University of Wales Press under the title Margaret Pole, Countess of Salisbury: Loyalty, Lineage and Leadership, 1473-1541, and it has subsequently been republished. At that time virtually nothing had been written about Margaret Pole so Hazel's was the first academic biography of this highly significant figure.
Hazel explains 'In 2015 Philippa's novel The King's Curse was published which went straight to the top of the best seller list. The novel focussed on the life of Margaret Pole, and Philippa, who had read my book whilst she was researching Margaret for her novel, sent me a complimentary copy. I never thought anymore about it until I received the invitation!'
Hazel is not the only author from Bangor University whose work has been referenced by this high profile author. Andrew Hiscock, a professor in the School of English Literature, published an article on the devotional writings of Katherine Parr: "'A supernal liuely fayth": Katherine Parr and the authoring of devotion' Women's Writing, 9, 2, 2002, 177-98. This was one of the works consulted by Philippa Gregory for her 2016 novel The Taming of the Queen about Henry VIII's sixth wife.
Hazel continues 'Many of Philippa Gregory's novels focus on real medieval and Tudor women and, as one of the most successful historical novelists today who has a global audience, Philippa Gregory brings these often forgotten women to a wide readership. Listing the sources she has used enables those who want to conduct further research and find out more about these women, to do so. This is a valuable contribution to the study of history in general and to the recovery of those women hitherto marginalised in Historical memory'.
More information about the event can be found here on the Bookseller site.
Publication date: 10 May 2017