At Bangor University, first impressions count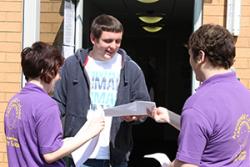 Bangor University has once again been placed in the top 10 among UK universities.
With only weeks to go until the new academic year, a survey by YouthSight has placed Bangor University among the top 10 UK universities for the favourable first impressions gained by new students.
You only get one chance to make a first impression, so the saying goes, and the saying is borne out by YouthSight research, which suggests a strong link between students' early impressions of their university and lower student drop-out rates later on.
Professor Carol Tully, Pro Vice Chancellor (Students) said:
"Bangor University is well known for the warm welcome it extends to its students. Coming to university for the first time can be scary and daunting, but we want our students to have a good experience, as the sooner they settle in, the better they'll study."
Bangor runs one of the largest and longest-running student welcome and support programmes in any UK University.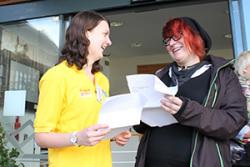 Commenting on the Peer Guide Scheme, Professor Tully explained:
"Our second and third year Peer Guiding students are a really important part of our welcome and adjustment to university life. These students are trained and are on hand to help our new students settle in. Peer Guides assist with events and can answer questions, show students around and help them feel at home. They're there for the Welcome Week, and beyond that, for as long as they're required to act in that role."
"Our ethos is to ensure that student care goes hand in hand with excellent teaching," she added.
In the survey of over 10,300 students, YouthSight found that students who rated their university as "excellent" cited the quality of teaching and their course as the most important factors. Students also emphasised the importance of pastoral care, and praised universities that "had lots of things organised for new students", "responded quickly to queries", were "supportive" and had friendly staff.
In August, another survey revealed that Bangor University as top in Wales according to student satisfaction, and is in the top 10 of the UK's best non-specialist universities, the traditional institutions who offer a broad range of subjects.
Publication date: 4 September 2014