Austrians are interested in archaeology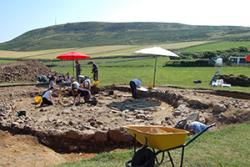 An excavation site (on this occasion a hilltop enclosure at Meillionydd, near Rhiw, in Gwynedd).As Austria prepares to change the way archaeology is handled, by ratifying the European Convention for the Protection of the Archaeological Heritage (revised), the European framework for national policies and practices of protecting the archaeological heritage, more than 20 years after it came into force in most of the European Union, Professor Raimund Karl, a leading expert on public engagement and participation in archaeology, has been working with the Austrian government to research Austrian attitudes to archaeology.
The work is being presented to the Austrian Press on 1 September 2014 ahead of changes to archaeology in Austria as the country prepares to
Professor Karl explains:
"Research into the archaeological interests of the Austrian public is timely and highly relevant for shaping public policy and necessary changes to archaeological heritage legislation. Enabling greater public participation in archaeology is also an aim of the Framework Convention on the Value of Cultural Heritage for Society (Faro 2005), and recent work in Austria by the Austrian National Heritage Agency Bundesdenkmalamt (http://www.bda.at) and an expert advisory group is aiming to create such opportunities on a much more extensive scale than before."
The study authored by Professor Karl, of the School of History, Welsh History & Archaeology at Bangor University, identified the archaeological interests of the Austrian public. The study demonstrated that the Austrian public is strongly interested in archaeology; and also values archaeology very positively: there was a high level of interest in active participation.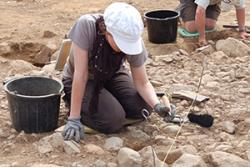 A volunteer on an archaeological dig.Prof Karl commented:
"Our study demonstrates that archaeology is perceived as very valuable to Austrian society, as an exciting pastime as well as a profession contributing greatly to the understanding of the Austrian past and its culture.
"Austrian archaeology can be congratulated on its outstanding success in public dissemination of the significance of Austrian archaeological heritage. This provides an excellent basis for future and even further improved participation and engagement programmes which are currently being developed under the aegis of the Bundesdenkmalamt."
Prof. Karl added:
"I am particularly pleased that our research at Bangor, conducted in collaboration with students of Celtic Studies at the University of Vienna, has produced a foundation to allow the Austrian public to benefit even more from it in the future."
Bernhard Hebert, head of the Archaeology Department of the Austrian National Heritage Agency, said:
"For the first time it is possible to get an inside view of the Austrians' attitudes concerning archaeological monuments and archaeological research. The study conducted by Raimund Karl from Bangor University and executed in part by students of the University of Vienna will be of great help for focussing our efforts in the fields of transparency and participation of the public."
Publication date: 1 September 2014