B-Enterprising announces winner of Santander Universities Excellence in Enterprise Award
Through Santander Universities, the B-Enterprising team are proud to announce that a £1000 award goes to a third year Business & Management undergraduate, Bogdan Pop, who has achieved this though his engagement with enterprise and innovation activities throughout his time at Bangor University.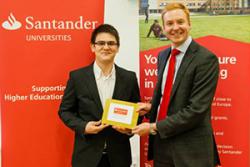 Luke Ellis, UK Relationship Director for Santander Universities presented the award at the recent BEA celebrations. A second award of £1000 will be announced later in the year to a student who's in the process of starting up their own business. Santander Universities provide these scholarships to provide support to outstanding students so they can enhance their prospects and become the leaders of tomorrow.
Bogdan has been attending B-Enterprising activities since his first year including the free one-to-one business mentoring sessions, experiential workshops such as 'How to be a Consultant' . Added to this he has been a stallholder at the B-Enterprising Student Christmas market where he sold handmade body care products. He's also taken advantage of enterprise opportunities in other parts of the university such as the IBM Business Challenge within the Business School and the Bloomberg Investment Competition. As a result of all these activities he gained the most BEA xp for enterprise and innovation activities. Over 500 students have registered their involvement in enterprise activities through the Bangor Employability Award and Bogdan demonstrated the greatest involvement out of these. On receiving the award Bogdan commented 'I'm surprised and happy to have won the award. It means a great deal to me as it recognizes my participation in so many activities and business competitions. I intend to market myself with this award in future job applications and interviews as it will demonstrate that I've developed enterprise skills alongside my academic studies'.
This year, Bogdan was in the winning team for the innovative multidisciplinary Enterprise by Design course http://www.bangor.ac.uk/news/latest/bubble-challenge-for-enterprise-by-design-18618
and was a member of the UK FLUX programme team which came second recently at Lancaster University (http://www.bangor.ac.uk/news/latest/enterprising-bangor-students-flux-success-18570).
BEA Manager John Jackson said "Bogdan has excelled himself in the Enterprise and Innovation category of the BEA scheme and thoroughly deserves this Excellence Award. Also, he hasn't limited his extracurricular activity to entrepreneurship, having been involved in a host of other interests and experiences of work, and he'll be receiving the BEA 200 Award when graduating later this year. The BEA Team would like to wish him the very best for his future."
Ceri Jones of the B-enterprising team said 'Bogdan is to be congratulated for this achievement and for his commitment to developing his enterprise skills from the very beginning of his student life at Bangor University. This is sure to stand him in good stead when seeking employment in this very competitive job market'
Publication date: 27 May 2014