BAFTA Cymru and Pontio to host special preview of King Arthur: Legend of the Sword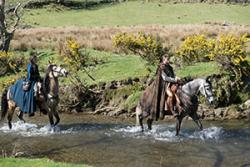 © 2017 Warner Bros. Entertainment, Inc. All rights reservedBAFTA Cymru and Pontio Arts and Innovation Centre in Bangor, North Wales are proud to announce a very special preview screening of the highly anticipated new epic film KING ARTHUR: LEGEND OF THE SWORD at Pontio's Cinema at 8pm on Sunday 14 May.
With extensive location shooting in the local Ogwen Valley featuring heavily in Guy Ritchie's dynamic reimagining of the Arthur legend, this is a fantastic opportunity to see the magic up on the big screen in advance of its official UK release on Friday 19 May, from Warner Bros. Pictures.
Hannah Raybould, Director of BAFTA Cymru said: "The opportunity to offer an advance screening of this highly anticipated feature and to celebrate the use of epic Welsh locations is key to BAFTA Cymru's role in celebrating the breadth of talented crew and services working on film projects in Wales. It will be a fantastic evening for local industry, our members and the public."
Starring Charlie Hunnam, Jude Law, Astrid Bergès-Frisbey, Djimon Hounsou, Aidan Gillen and Eric Bana, this new version is an iconoclastic take on the Excalibur myth, tracing Arthur's journey from the streets to the throne.
When the child Arthur's father is murdered, Arthur's uncle, Vortigern (Jude Law), seizes the crown. Robbed of his birthright and with no idea who he truly is, Arthur comes up the hard way in the back alleys of the city. But once he pulls the sword from the stone, his life is turned upside down and he is forced to acknowledge his true legacy.
Cabinet Secretary for the Economy and Infrastructure, Ken Skates, said: "I'm delighted that BAFTA Cymru and Pontio have secured this special preview screening in the area where the film was shot - which is a showcase to Wales' epic scenery and to our potential as a film location. The release of the film during our Year of Legends is perfect timing as we explore Wales' many legends and bring the past to life this year. Visit Wales is also partnering with VisitBritain on a digital campaign 'Where Stories Become Legends' which showcases legendary locations in King Arthur's Britain to an international audience."
Tickets for this special preview available online at www.pontio.co.uk
Publication date: 11 May 2017