Bangor academic celebrating 100 years of Scholarships to women graduates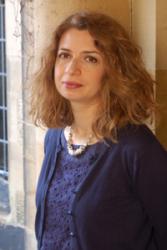 A Bangor University academic, Dr Raluca Radulescu addressed an Awards ceremony in London recently. The British Federation of Women Graduates (BFWG) are celebration a hundred years of awarding Scholarships to women academics, and have invited leading academics who have been recipients of their scholarships earlier in their careers.
Dr Radulescu, a renowned expert on Arthurian literature who has been teaching and researching the legend for over seventeen years, received the 'Jane Finlay Memorial Award' from the BFWG in 1999. A Senior Lecturer and Director of Postgraduate Studies at the University's School of English, Dr Radulescu continues Bangor's long-standing tradition of excellence in Athurian research. Bangor's MA in Arthurian Literature, coordinated by Dr Radulescu, is the only one of this kind in the world and represents a platform for exploring the multi-faceted myth and its enduring presence in the modern world.
Also addressing the meeting was Dr Janet Bultitude, a Postdoctoral Research Fellow at St Anne's College, University of Oxford. Janet received the Ruth Bowden Scholarship awarded by BFWG in 2007 while a PhD student at Bangor University's School of Psychology. Janet studied under Professor Rafal, and has recently had a research paper researched while at the School's Wolfson Wolfson Centre for Clinical and Cognitive Neuroscience and co- authored with Professor Rafal, published in Frontiers in Neurology.
BFWG was started in 1907 in Manchester as the British Federation of University Women (BFUW) by disgruntled academic women who were not getting promotion to higher status in the universities. As well as prejudice against women it was also realised that lack of opportunity for research was another major factor limiting their progress. These early pioneers 'put their money where their mouths were'----and persuaded others to do the same, by starting a fund for Post Graduate Scholarships. Since then, over £2 million has been awarded to women researchers. The first recipient of a 'Prize Fellowship' in 1912 was Caroline Spurgeon, who went on to be the first woman Professor appointed in open competition with men, when she became Chair of English Literature at University of London, Bedford College in 1913.
Publication date: 5 November 2012