Bangor Academic remains European Champion Rafter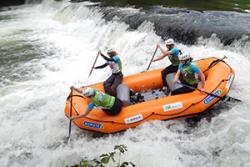 GB White Water Rafting TeamA Bangor University academic has recently represented Great Britain at the European White Water Rafting Championships 2016 in Tacen, Slovenia.
Dr Suzie Jackson, a lecturer at the School of Ocean Sciences has been representing Great Britain in the women's white water rafting team for nearly four years. Team GB were victorious at the recent European Championships, maintaining their title as European Champions after their success in Bosnia and Herzegovina in 2015.
The competition consists of four races; a time trial sprint race, head to head racing, slalom race and finally a downriver endurance race. The GB women's team started the competition in style; completing the fastest time trial sprint and winning all head to head races, ultimately beating the Russian team in the final. The slalom race took place on the second day where GB finished a modest overall fourth place. With three races completed, GB entered the final downriver endurance race overall second, six points behind Russia. GB gave the final race their all, overtaking Russia and all other teams to win gold which all led to an overall victory for the competition.
Dr Jackson said: "As a team we are over the moon to have maintained our title as European Rafting Champions! I would also personally like to thank the School of Ocean Sciences for being so supportive and allowing me the time to compete, we now look forward to the 2016 World Championships in Al Ain, United Arab Emirates in October where we are yet to achieve an overall medal."
Related stories:
European Champion Rafter becomes a Doctor
Video of a drop on the final downriver race:
Publication date: 27 May 2016