Bangor academic wins Hugh Owen Medal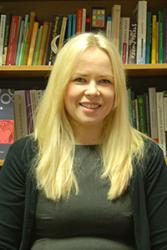 Professor Enlli ThomasProfessor Enlli Thomas, Professor and Director of Research and Impact, School of Education, Bangor University, has been awarded the Learned Society of Wales Hugh Owen Medal for contributions to educational research, in recognition of her expertise on the Welsh language, bilingualism, and studies into teaching, learning and using Welsh.
The Learned Society of Wales' annual medals were awarded recently at the Royal Welsh College of Music and Drama in Cardiff in a ceremony celebrating achievement in academia. Unfortunately Professor Thomas was unable to attend in person, as she was attending an international research conference.
The medals recognise outstanding contributions in research and scholarship. They are a celebration of the achievements of both the individuals honoured and of the academic sector of Wales, from universities to schools.
The medals were created to inspire and recognise the long (and often overlooked) legacy of Welsh achievement, while celebrating the exceptional researchers of today.
This year, seven medals, all named in honour of significant figures from Wales' history, were awarded.
Accepting the award, Professor Thomas commented: "I'm extremely pleased to have been nominated for this prestigious award this year, and especially grateful to those who nominated me and to the Society for awarding me this wonderful medal and for the recognition of my work. It is a true privilege and an honour to have been able to work i
The Hugh Owen Medal.n an area that is very close to my heart for over 20 years – the acquisition of Welsh and bilingualism in children – and it is wonderful to be part of the national buzz as we develop strategies and evidence-based educational interventions in order to motivate more users of Welsh by 2050. "
Sir Emyr Jones Parry, President of the Learned Society of Wales, commented: "It's wonderful that we have this range of excellence which we are recognising with the award of these medals. It's particularly encouraging that these include four very talented young researchers."
Other winners were Professor Tavi Murray FLSW from Swansea University who received the Frances Hoggan Medal which recognises the contribution of outstanding female researchers in STEMM who have a connection to Wales.
Dr Rebecca Melen, Senior Lecturer and EPSRC Fellow at Cardiff University and Dr Emily Shepard, Associate Professor in Biosciences at Swansea University, who received the Society's Dillwyn Medals for STEMM. Dr Stuart Fox and Dr Luke Sloan, both from Cardiff University School of Social Sciences, were awarded the Dillwyn medals for Social Sciences, Economics and Business this year.
The Menelaus Medal is awarded to a researcher with a connection to Wales who demonstrates excellence in any field of engineering and technology. This year, Professor Roger Owen FREng FRS FLSW, Research Professor of Engineering, Swansea University, was awarded the medal.
Publication date: 24 May 2019