Bangor Alumnus returns from Canadian Climbing Expedition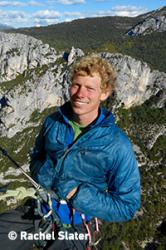 Tom LivingstoneAn experienced professional mountaineer and Bangor University alumnus has recently returned from a challenging expedition in the breathtakingly beautiful Canadian Rockies.
Tom Livingstone, 24, graduated with a Sports Science with Outdoor Activities degree from the School of Sport, Health and Exercise Sciences in 2013.
Originally from the Southampton area, Tom has lived in various locations including Chamonix in the French Alps after graduating, but has now settled in Llanberis, in north Wales, a great place to be based as a climber or an outdoor enthusiast.
After graduating Tom went on lots of climbing trips and gained some outdoor instruction qualifications including the Summer Mountain Leader Award. He is now focussing on climbing and working towards the next qualification. He works as a freelance instructor for local companies such as Snowdonia Adventures, and is also a writer and has had several pieces published in a wide range of magazines.
Early in 2015, British technical outdoor clothing manufacturer, Jöttnar approached Tom and offered him a place on their Pro Team.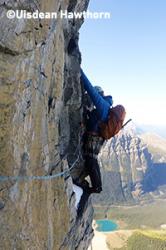 Tom climbing the 'Greenwood/Jones' on Mt Temple in the Canadian RockiesTom said: "I'm honoured to be sponsored by Jöttnar. They give me lots of support for my adventures, such as providing me with their top-of-the-range clothing. In return, I help to publicise the brand and give feedback on their products. The brand pride themselves on creating clothes of the highest quality and performance, with attention to detail. This is really reassuring, as I need to be able to rely on my kit when I'm climbing mountains around the world."
After hearing about the recent success of British climbers Nick Bullock and Will Sim climbing some of the big, remote mountains in the Canadian Rockies, Tom and his friend Uisdean Hawthorn wanted to sample some of the action for themselves.
Tom explained: "Throughout September we climbed loads in the mountains and all on big alpine routes. It involved a bit of everything - from crossing freezing rivers, walking up big wooded valleys, camping in the snow beneath the mountain, waking up early, rock climbing and ice climbing until we finally reached the summit. The views are always worth it and then all that's left is to reverse the entire process and return to our car a few days later.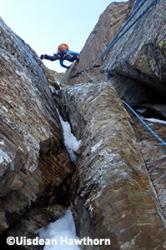 Tom on the 'Greenwood/Jones' route"We managed to do a route called the 'Greenwood/Jones' on Mt. Temple, which was brilliant, but we battled poor conditions and mixed weather. The rest of the trip saw attempts on many mountains in the Rockies, including Mt. Kitchener, Mt. Andromeda and Mt. Alberta. The Canadian summer of 2015 has been the hottest and driest on record, so snow and ice conditions haven't been ideal. Our most significant attempt was climbing the House/Anderson route on the North face of Mt. Alberta, only to be thwarted by poor conditions. We reached the base of the upper headwall, only to have to make a lengthy retreat. We're very frustrated but such is the nature of the game, and we're determined to return.''
"This winter I'm going to be climbing with axes and crampons in snow and ice in Scotland and the Alps. I'll then be training hard during the spring so I can make the most of the summer! I've got a few trips planned and keen for more, and there's talk of going to Patagonia late 2016."
Related stories:
Alaska Climbing Challenge for Bangor Students
Tom's website/blog
Publication date: 5 October 2015