Bangor and Santander Universities offer support through Enterprise Support Allowance during COVID crisis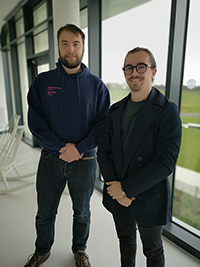 Josef Roberts (left) and Simon Parry-Williams (right) of Pai Language LearningBangor University and Santander Universities are supporting student and graduates with their businesses and new ventures through the COVID-19 pandemic.
Santander Universities support take the shape of a welcome £25,000, which has resulted in the creation of the Bangor University COVID Crisis Enterprise Support Allowance for student entrepreneurs to access financial support during this period of huge uncertainty.
The support is part of a wider £4.5m scheme across a number of Santander's University partners to support an array of initiatives to support student entrepreneurship and alleviate hardship during the COVID-19 crisis.
Operating at pace, a competitive call was launched for applications from student and graduate businesses who were able to demonstrate that the support would help kick-start a new venture or sustain an existing start-up and relieve some of the financial pressures over the coming months. We are delighted to announce that a total of 28 awards have been made ranging from £500 - £3000 which will be used to supplement living costs, professional fees, equipment purchases and, in some cases, the hiring of a student intern to help grow the business.
Josef Roberts of Pai Language Learning, a platform that provides language learners everything they need to teach themselves any language based at M-Sparc in Gaerwen said ,"We've been working on our business for the last 12 months and were getting ready to officially launch when COVID-19 put us all in lockdown. The Covid Crisis Enterprise Support Allowance from Santander Universities has been invaluable to us as a start-up company and means we're able to continue with our plans and hopefully be in a position to employ student interns in the near future."
Matt Hutnell, Director, Santander Universities, said, "Santander is committed to supporting higher education as well as local communities across the UK so we're pleased that our funding is able to be redirected to where it is most needed at this critical time. Universities are doing some fantastic work to contribute to the UK's effort to combat the outbreak of COVID-19, so we're delighted to collaborate with our university partners in a way which increases their response effort and look forward to continuing to work with them on supporting both students and the broader higher education community with further initiatives over the coming months."
Prof. Paul Spencer, Pro Vice-Chancellor for Innovation, Engagement and Employability at Bangor University added, "We are extremely grateful for the continued support from Santander Universities during this challenging period. I was delighted to see such high levels of interest in the scheme and the quality of business ideas we received. I think it's testament to the entrepreneurial spirit of our students and graduates that they are able to adapt their ventures and pursue new opportunities despite the operating difficulties presented by COVID-19. I'd like to wish all the recipients the very best with their endeavours and look forward to seeing how the businesses progress over the summer."
Publication date: 3 July 2020