Bangor appears in UK Top 10 League Tables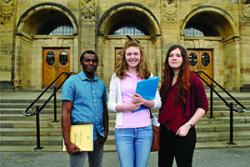 In addition to being placed third in Wales according to The Complete University Guide 2018 league table, the University also appears among the ten best UK universities for five subject areas taught at the University (Agriculture & Forestry, Celtic Studies -Welsh (3rd), Italian (3rd), Medical Technology(4th), Social Policy). The University is also placed top in Wales and 8th in the UK for Student Satisfaction, according to the Complete University Guide Rankings' own ranking.
The Guide complements other data available to would-be students, to help them with their decision making, including the most recent news that Bangor University was placed 3rd in Britain according to the WhatUni Student Choice Awards (April 2017) and won the Best Clubs & Societies Award at the same event.
The University is also among the top 15 of the UK's traditional universities who offer a broad range of subjects, in the annual National Student Survey (Aug 2016).
Simon Emmett, Chief Executive Officer of the Hotcourses Group, which acquired TheCompleteUniversityGuide.co.uk in October 2015, said: "The rankings provided by TheCompleteUniversityGuide.co.uk are widely respected and cited both at home and, importantly, overseas. The CUG league tables increasingly enjoy a symbiotic relationship with the very different Whatuni Student Choice Awards. Both exist to help students make one of the most important decisions of their lives – the right choice of subject and the right university for them."
Vice-Chancellor Professor John G. Hughes said: "The University continues to provide students with an excellent education combined with outstanding student support and opportunities to learn and gain valuable career-enhancing experiences while at Bangor University. We always recommend that prospective students consider every aspect of their university experience, and sources such as league tables, surveys and Awards provide valuable endorsements which underpin the valuable impression made by a visit to a Bangor University Open Day.
"I would once again congratulate all our staff for their hard work in delivering excellent student experiences."
Publication date: 26 April 2017