Bangor bids Bon Voyages to prestigious Fulbright Scholars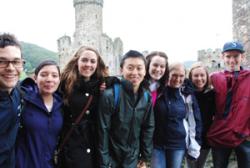 The Fulbright students visit Conwy CastleBangor University has said a fond farewell to eight Fulbright Scholars, who are among the USA's brightest students, who visited the University as part of their study of Wales' culture, history, politics and landscape. The students were competitively selected from Universities spanning the USA, from Seattle to South Florida for the top-flight summer study Institute by the leading US scholarship programme.
Bangor University was appointed by one of the most prestigious US-UK educational organisations, the Fulbright Commission to run the second Wales Fulbright Summer Institute, along with Cardiff and Aberystwyth universities.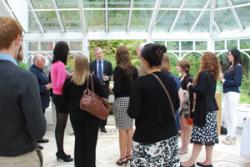 A Barbecue hosted by the Vice Chancellor Prof John G. HughesThe American undergraduates spent two weeks at Bangor University studying Wales' industrial heritage.
While at Bangor, the students studied the events, places and people that have shaped Wales, and the crucial influence industry has had on all of them. They explored the impact of such industries as tourism, slate mining and highland agriculture, and how a small nation can maintain its identity in a global era.
Each section of the course involved academic coursework, cultural events and visits to historic sites in order to experience and gain an understanding of the distinctive regions of Wales. Each University has appointed a Course Director to lead their element of the programme.
Tecwyn Vaughan Jones, the Course Director for Bangor University's contribution said: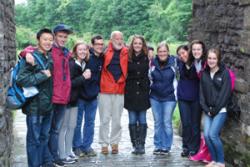 The Fulbright students with Bangor Course Director, Tecwyn Vaughan Jones"Once again this year, eight Fulbright Scholars attended summer school in Bangor University. We visited many sites of cultural and historical importance in north Wales and the students' knowledge of Wales, its history and people has increased tenfold over the two weeks ... we look forward to the programme's return to Wales and to Bangor in particular."

The Fulbright Commission has been promoting peace and cultural understanding through educational scholarships for more than 60 years. The Summer Institutes are a new initiative, designed to introduce students to the United Kingdom, while also developing and encouraging leadership.
See an Image Gallery from the visit here
Read two of the student's blogs; Emily Mixon and Allie Rawlings
Publication date: 24 July 2012