Bangor Business School in the Bahamas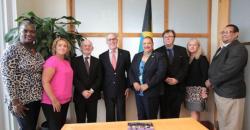 During a busy and productive visit to Nassau, Bahamas in October, representative from Bangor Business School met with the Hon. Brent Symonette, Minister of Financial Services, Trade & Industry and Immigration.
While in The Bahamas, staff from the School also took part in a one-hour radio interview on Guardian Talk Radio, The Bahamas' first and only all-news/talk radio station. Introduced as 'special guests', Professors Ted Gardener and John Ashton took part in a lively discussion on the Z Live: off the Record show. This general interest news talk show features economic and political analysis and is hosted by Zhirvago Laing, ex-minister of Finance for The Bahamas, recently appointed the Bahamas Chief Negotiator for WTO Accession and now a Bangor University student.
The overall purpose of this visit was to strengthen links with our many partners in the Caribbean in enhancing financial and banking education for financial professionals. John Ashton a professor of Banking from Bangor Business School, commented 'such excellent links with the government of the Bahamas has been critical in our ambition to help to develop and sustain responsible professionalism in global banking. We are grateful to all our excellent partners in achieving this outcome."
Pictured L-R: Jane Gibson (Education Chairperson), Lisa Jones (Bangor Business School), Ted Gardener (Bangor Business School) Minister Symonette, Kim Bodie (Executive Director, Bahamas Institute of Financial Services), John Ashton (Bangor Business School), Tanya Keith (Bangor Business School), and Miguel Pratt (Programme Director, Bahamas Institute of Financial Services. (Image source: Derek Smith)
[APR & JA 07/11/18]
Publication date: 7 November 2018