Bangor Celebrates Chinese New Year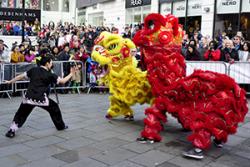 Bangor University's Confucius Institute brings its annual Chinese New Year event back to Bangor on 24 February, with a colourful dragon parade and Chinese gala to celebrate 2018, Year of the Dog.
Pupils from Our Lady's School will join performers from the Confucius Institutes at Bangor University and London South Bank University for a colourful display of Chinese culture throughout the afternoon. A Chinese dragon will wind its way along Bangor High Street accompanied by dancers and drummers, with a dazzling performance of Chinese song and dance to follow in Bangor Cathedral.
The Dean of Bangor Cathedral, Reverend Kathy Jones commented:
"We are delighted to be able to host this fantastic community event in Bangor Cathedral this year. It's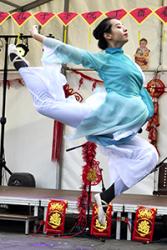 a great way to bring people together in the cold winter months to learn more about the world and the traditions of other cultures."
The dragon parade will leave Bangor Cathedral at 12pm and make its way along the High Street to the Town Clock and back again, with the gala taking place inside the Cathedral from 12.30pm until 2pm, all free of charge. Special guests on the day include Mayor of the City, Councillor Derek Hainge, Vice Chancellor of Bangor University, Professor John Hughes, and local actress Angharad Rhodes, best known for her leading role in the CBeebies television series Melody.
The Confucius Institute's event follows on from Pontio's Wales-China Festival (16-18 February) the previous weekend, which celebrates Chinese New Year with a weekend of eclectic performances, films, live music and family friendly activities.
More information about the Confucius Institute's events can be found at: www.bangor.ac.uk/confucius-institute.
Publication date: 14 February 2018