Bangor celebrates new all-weather pitch for students and local community
(left) Bangor University Vice-Chancellor, Professor John G Hughes and Bangor City FC Chairman, Dilwyn Jones, with University student Football Team members checking out the site of the new 3G pitch at NantporthBangor University and Bangor City Football Club are celebrating the launch of a new all weather pitch project that will bring together students and the local community next year.
Currently under construction at Bangor City's Nantporth ground, the new third-generation artificial pitch will be home to both Bangor University student teams and a host of community clubs from September.
Jointly funded by the Football Association of Wales, Bangor University, Sport Wales and Bangor City Council, the floodlit 3G pitch will ensure that a large number of junior and senior clubs can keep training, whatever the weather throughout the winter months.
Construction commenced on the 16th of April and will take approximately 14 weeks to complete, meaning the facility will be open in time for the 2014-15 football season.
Speaking about the project, Bangor University Sport Director Richard Bennett said:
"The opportunity to work with Bangor City and the FAW on the construction of long-pile all weather pitch was an excellent opportunity to not only work with our community partners but also to ensure that we give our students the best training facilities all year round. With this facility we can start to extend our offer to students to provide more recreational including recreational 5-a-side leagues"
Dilwyn Jones, Chairman of Bangor City FC said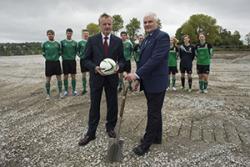 "We are very grateful for the Universities substantial contribution to this project, without whom it wouldn't have been possible to secure funding from the FAW. With all parties working together we can now expand our junior and women's football schemes as well as providing a training facility for a range of local clubs"


Publication date: 8 May 2014